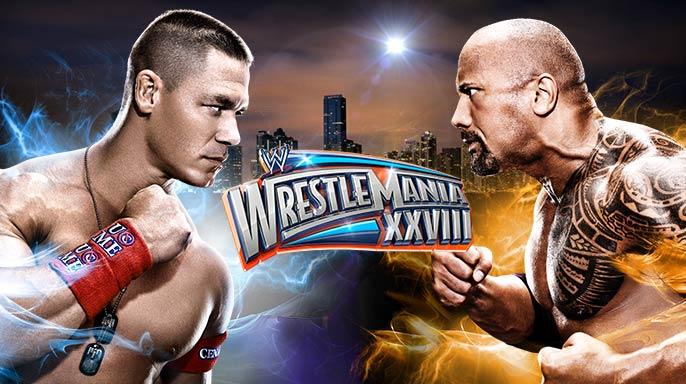 It's that time of year one again kids. Wrestlemania! Whether you're a fan of the current product (And I don't blame you if you're not), an old school fan, or not a fan at all, Wrestlemania is the one wrestling show of the year that everyone can enjoy. Why? Well because Wrestlemania is the one show of the year that WWE actually gives a shit about. The event always features the biggest matches, takes place in the largest venues and boasts some truly tremendous production values. In a nutshell, it's pure spectacle!
WWE reportedly took in nearly half a billion dollars of revenue in 2011 and most of that can be attributed to the success of Wrestlemania and this year, expectations are even higher. WWE president Vince McMahon has gone on the record and predicted over 1.3 million buys Pay per view buys for this year's event, which would smash the previous record held by the 2007 event (Trump vs. McMahon!). Yet, ratings are unspectacular and the pay per view buy rates for events outside of Mania are at an all-time low; simply put, WWE is in something of a slump. So how does WWE intend to make this year's event the biggest of all time?
Well, to quote The Great One himself. FINALLY, THE ROCK HAS COME BACK TO WRESTLEMANIA! The Rock's mere presence at last year's mania, made a somewhat unspectacular card into something of a must-see show. (check out Tim's review of last year's show here) Old fans came back in droves to see just what Rock's role would be. Well, aside from some hit and miss comedy and some disappointing last minute fisticuffs in the aftermath of the main event (A forgettable encounter between The Miz and John Cena), Rock did very little. Fans who expected to see Rock and Cena do battle were left sorely disappointed, the event had merely served as the prelude for this year's Wrestlemania, as the next night Rock and Cena set Wrestlemania 28 as the stage for their long awaited epic encounter.
Rock is arguably the biggest star ever seen in wrestling, having conquered the wrestling world and successfully transcended into the mainstream; for a lot of fans he represents the golden years, a time when wrestling was cool. Yes, cool. When Rock left for good in 2004, John Cena began his rise to become the face of the company. For years Cena has been a polarising figure in wrestling, he's drawn millions in revenue, gained a reputation for being the hardest working man in the business and stayed on top for nearly a decade; and yet, a large portion of the fan base hate him. Still, it's 2 of the biggest stars in the industry clashing in the biggest dream match since Hogan and Rock squared off in Toronto a decade ago and people are chomping at the bit to see it. So, with that said, let's have a look at the card so far and make some predictions.