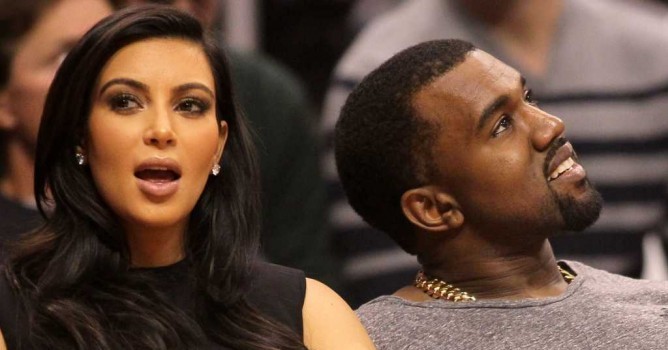 Everyone sort of lost their shit when Kimye (as I don't imagine they prefer to be known) deemed it so that their little bundle of joy would be blessed with the punning name of North — as in North West. In the build up to the birth, there'd been an awful lot of speculation about the child-to-be's name; each more ridiculous than the last. However, the leaked frontrunner was North all along; with a pun that good they'd have been fools to choose anything else — except South, South would've worked just as well, if not better.
So, yeah, of course the internet got all worked up, as it tends to do from time to time, and Twitter was flooded with jokes and opinions as North West trended globally. Quite an achievement for little North, might I add; barely out of the womb and trending on Twitter. A nice change for the rest of us too, seeing as the last thing to trend on Twitter relating to baby was Ian Watkins conspiring to rape it — allegedly. Whilst no longer trending, North West is still very popular on Twitter, as you can observe HERE — having left the tab with that open to type this so far, on looking back, there's already near two hundred new Tweets waiting. If you can't be fucked though, here's a few prime examples of the fuss:
Make fun of Kim and Kanye's baby North West all you want. That baby is headed straight to the top….. And slightly to the left.

– Stewie Griffin (@FamilyGuy_) June 23, 2013
North West? What they going to call their next kid? pic.twitter.com/rZN5i67sKY

– GregorHunterColeman (@SupanovaGreg) June 23, 2013
My mom & dad took "mapping out you child's future" a little too literally.

– North West (@Its_North_West) June 23, 2013
After Kim K called her baby "North West" One direction star Liam Payne has said his 1st baby will be called "Period"

– Will Mckenzie (@WillMckenzieNot) June 23, 2013
Anyway, is it really a reason to get all that excited? Not really, it's just a baby's name after all. Sure, it's stupid. Sure, they've chosen to make their child's name a joke that will get old fast. Sure, it's further evidence that the pair of them just really aren't all there, and as much as I love a lot of Kanye's output, the man's a dick. He's either a completely deluded asshat or just a seriously committed troll. In which case he's now moved into child name trolling territory, and you know what that makes him? Just another celebrity. Kim too, obviously. This pair are far from the first celebrities to get, erm, creative when naming their child and they are sure to be even further from being the last.
Here's a quick rundown of our top fifteen celebrity baby names, including joint entries, where necessary, for parents with a penchant for the unique:
15. Egypt (Alicia Keys and Swizz Beats)
14. Apple (Gwyneth Paltrow and Chris Martin)
13. Tu Morrow (Rob Morrow)
12. Blue Angel (The Edge)
11. Moxie Crimefighter (Penn Jillette)
10. Sage Moonblood, Seargeoh (Sylvester Stallone)
9. Heavenly Hiraani Tiger Lily (Michael Hutchence and Paula Yates)
8. Rocket Valentin, Racer Maximilliano, Rebel Antonio, Rogue (Robert Rodriguez)
7. Bogart Che Peyote, Rocco Kokopelli (David 'Puck' Rainey)
6. Kal-El (Nicholas Cage)
5. Camera (Arthur Ashe)
4. Pilot Inspektor (Jason Lee)
3. Fifi Trixibelle, Peaches Honeyblossom, Little Pixie (Bob Geldof and Paula Yates)
2. Audio Science (Shannyn Sossamon)
1. Moon Unit, Diva Muffin, Ahmet Emuukha Rodan, Dweezil (Frank Zappa)
Now, in comparison to most of those, North West doesn't seem all that bad does it, even if some people's main issue is that North is not a girl's name, or feminine enough to be one. Though, is it just fame, fortune and that special kind of insanity that puts people in the public eye and keeps them there that results in these sort of names? Not even slightly, you're just as likely to name your kid something pretty fucking stupid given half the chance. Hell, for a while I was obsessed with the idea of naming a potential daughter Heroin. Now, that's not based on any affinity with the drug, having never taken it, but because I feel it's just such a pretty word; very aesthetically pleasing for eyes, ears and mouths to enjoy. That was until a good friend said 'you're a dick,' and of course she was right. Those might not have been her exact words, but words to that effect anyway.