It's always a tragic day when a pet ends up passing away, but the life and death of Nutmeg the Tabby perhaps deserves to be celebrated slightly more so than any other. That's because she managed to become the world's oldest cat, living to the age of 32 – or 144 in cat years.
Images VIA
Anyone who has ever had a pet cat will know that this is an extraordinary achievement as the average lifespan of a cat is 15 years, meaning Nutmeg surpassed it by over 100%. Nevertheless her owners Liz and Ian Finlay are devastated by his death as you would expect them to be. Ian said the following:
We both feel like our hearts have been ripped out. He was our little boy. He went downhill so quickly it was unbelievable.

He suffered from a bad tooth and he had rasping breath. We knew that when we went to the vets that he wouldn't be coming home. It was an unspoken solace.

We won't be getting another cat because we don't think that we will be able to go through this heartbreak again.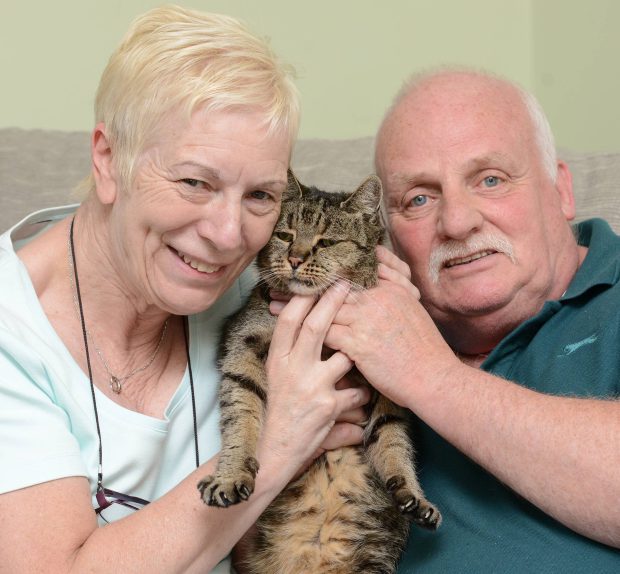 We first met Nutmeg when our other cat Spice kept hanging out with her. We soon realised that he was a stray and took him in as well.

Obviously he had such a long and good life – we spoilt him rotten with treats such as tuna, cream and hot roast chickenI would have loved a little more time with him, but that is just being selfish.

He just reached a certain age and just knew it her time to go. He started to get really thin and just gave up. He is probably up there now causing mischief.
Sounds like a great cat that lived a long and happy life with Liz and Ian. RIP.
For more cats, check out this one walking like a human. Unbelievably creepy.