Sad news today as we learned that the world's fattest man passed away on Christmas Day after an early morning heart attack.
38 year old Andreas Moreno – who once weighed 70 stone – was taken to hospital at 8:30 a.m. on Christmas morning in his hometown of Ciudad Obregón in Sonora, Mexico, but he unfortunately passed away inside the ambulance. He had to be carried on a reinforced stretcher that requited seven people to lift him off the bed.
Although, Andreas probably can't blame anyone else for how fat he was and how this ultimately contributed to his death, he had recently been trying to lose weight and had managed to shed 20 stone from his peak weight. He was encouraged by Cristiano Ronaldo, who sent him a signed Real Madrid shirt to try and motivate him to get thinner: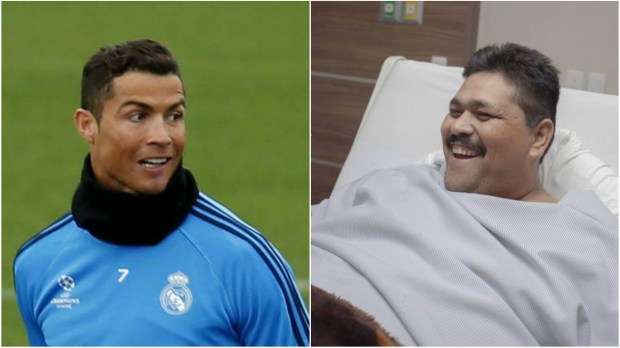 Images VIA
I want to thank everyone, especially Ronaldo, for taking interest in my case.

Sometimes you think that people live in another world way from the people, but that is not the case.

I feel as if I had gotten a Christmas gift before Christmas.
This unfortunately wasn't enough though, and Andreas sadly passed away. RIP. Make sure if you ate too much this Christmas you don't end up going the same way as him.
If you do manage to lose 46 stone though, don't immediately break up with your girlfriend who supported you all the way through it like this guy because it's kind of a jerk move.