If you are blessed with a fully functioning brain and the ability to read, then you have probably never used a 'pay day loan'.  You don't have to be Nick from The Apprentice to realise that a company offering financial aid under altruistic premises is probably up to no good.
Anyone who hasn't suffered serious head trauma recently would at least investigate the small print of such a business, soon realising that their astronomical interest rates mean that a loan of £20, for a period of 1 month, might as well be an informal contract to sell your arse on the backstreets of Brixton for the next 15 years. Short of chronic drug addicts and village idiots, I do not have the faintest idea about who actually utilises this service, but the enormous success enjoyed by these organisations in recent times, implies that Brits in their droves are suckling at the teat of short-sightedness.
The fat cats at Wonga were clearly getting impatient of waiting for benefit day and scratch card pay-outs from their hapless victims, so they cunningly decided to twist the knife even further. Between 2008 and 2010 they sent letters from fabricated law firms going by the names of 'Chainey, D'Amato & Shannon' and 'Barker and Lowe Legal Recoveries' in order to instil some terror into the hearts of indebted halfwits across the nation.
Although I am fundamentally opposed to this kind of devious, corporate, money snatching malice, you have to hand it to Wonga for defying all possible codes of conduct and professionalism, risking both reputation and credibility, in order to get their grubby paws on money which is, by all accounts, legally theirs. You have to view the CEOs of Wonga in the same light that you view a Bond villain.
They are undeniably evil, they have caused pain, suffering and turmoil for countless individuals, they would probably sell their own grandmother to a Thai massage parlour, but if they're going to be arseholes, they might as well do it properly.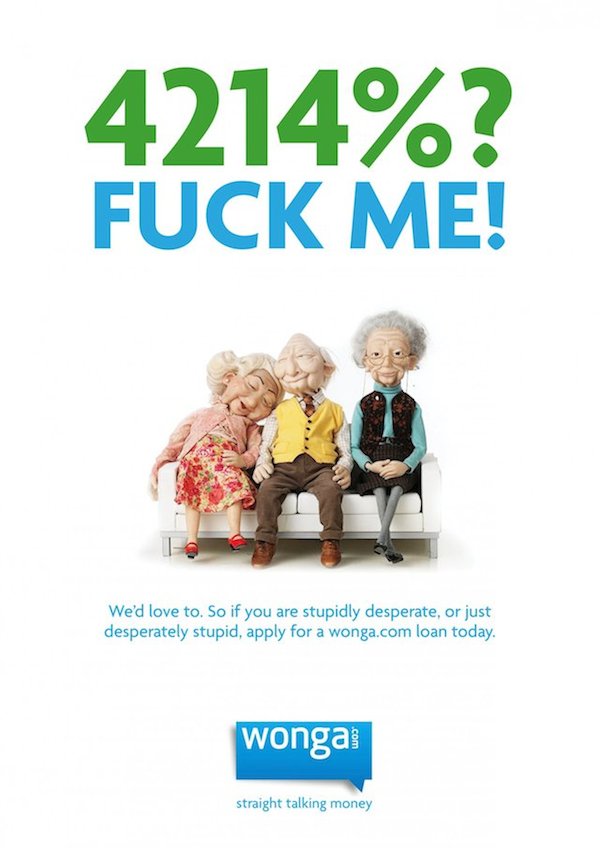 Prior to April of this year, the FCA (or Financial Conduct Authority) did not have permission to regulate the activities of "pay day loan" companies, so there was somewhat of a Carte Blanche on offer to anyone with enough collateral and bad intentions to set up one of these businesses.
As the fake legal documents were sent out before the FCA had authoritative powers over Wonga, they have been unable to issue the customary gargantuan fine that would reward such trickery, so instead have opted to compensate the 45,000 knuckle draggers that fell folly to this deception. This only equates to around £50 compensation for each individual but at least that'll tide them over until their big World Cup accumulator pays off.
The real joke is the fact that this fine is equivalent to a government commissioned Jack Russell nipping at the heels of a financial Tyrannosaurus Rex. Wonga posted pre-tax profits of £84.5 million pounds for 2012 and they have gone from strength to strength since then. This fine may slow them down for the next 3 working days, but I'm sure they'll be back on their feet and continuing with Goldfinger-esque plans to steal the moon, or the entirety of the Earth's fresh water supply, by Monday morning.