While breast enlargement surgery is one of the most common cosmetic procedures worldwide, ask any woman with a large chest and she'll tell you that it can be painful and uncomfortable.
Images VIA
This is certainly the case for Lamphrai Srinuan, who has a mystery condition that means her breasts quite literally won't stop growing.
The 46-year-old from Thailand revealed how they started to swell around three years ago. At the time she thought nothing of it, but at the end of last year they suddenly ballooned, leaving her in agony with chronic back and shoulder pain.
Eventually her and her husband Bunleang, 51, decided enough was enough and together they went to the Buddhachinaraj hospital in Phitsanulok to find answers.
However, following a series of tests and scans, they were stumped – the doctors found no signs of tumours and were unable to diagnose Lamphrai. Speaking about the ordeal, she said:
It's very difficult for me to even sit or lay down to sleep at night.

The breasts are getting heavier and that really hurts my neck and my back.

I don't wear clothes because every shirt I have doesn't fit me now. I only have one large shirt that I wear when I go to the hospital.
As a result, Lamphrai can't work anymore and is now suffering from a joint infection due to the weight of her breasts. She has to use a crutch to get around and wear a cloth tied around her neck to keep them supported.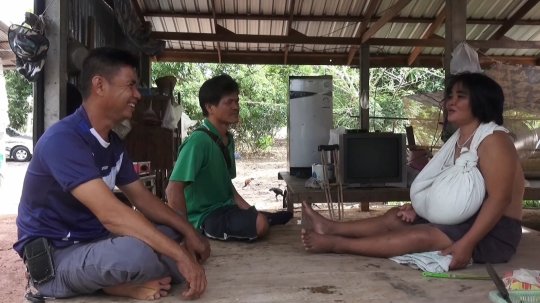 The situation is made even more worrying, said Lamphrai, as her chest is growing day-by-day. And without a diagnosis, there's no treatment.
Since the story has hit the headlines, some reckon it looks like she's suffering from gigantomastia, a rare condition characterised by excessive breast growth.
Hopefully this information reaches Lamphrai and she is able to get the treatment she needs.
To read about the bizarre social media trend that sees women doing worrying things to their nipples, click HERE.