If you're looking to hire a hitman, you should probably find a more lowkey way of doing it than visiting rentahitman.com – a site that I am definitely not going to visit on my laptop but is set up to incriminate anyone dumb enough to actually try and book a hitman through it.
Featured Image VIA
One person who is definitely dumb enough is 51-year-old Michigan woman Wendy Wein, who filled in a "service request form" on the website and requested a consultation to help with her "issue". Wendy specified her ex-husband as the target she wanted eliminated. Sure enough, the site owner tipped off police.
As reported by MailOnline, an undercover police officer met with Wendy in a South Rockwood car park, where she offered to pay him $5,000 to murder her ex-husband, who lives in another state. Wendy provided the fake hitman with an upfront payment for travel expenses.
Wendy was promptly arrested and charged with solicitation to commit murder, which is great because anyone crazy enough to rent a hitman let alone stupid enough to do it via rentahitman.com probably deserves to be in jail. I mean what planet must you be living on to think you can just fire up Google and find a legitimate hitman? Wendy is literally going to have to stand in front of jury and explain how she though rentahitman.com was a legit site that you could hire an actual hitman on.
Here's a screenshot of the page that duped her: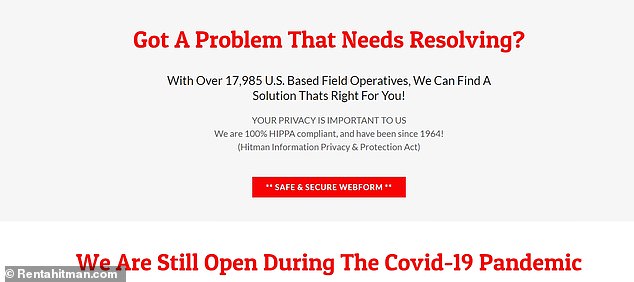 They've even got a "testimonials" page which Wendy thought was real – lol: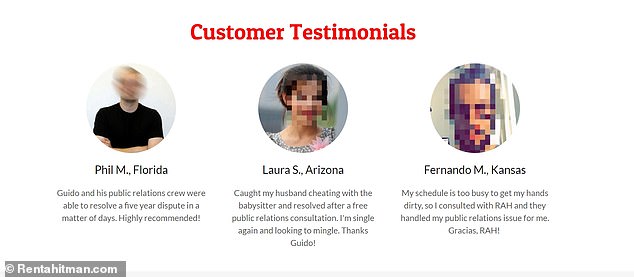 The website's owner says he has helped prevent more than 130 murders since setting it up in 2005 by referring those interested in his fake service to police. Some of those he has reported have also requested school shootings and even a baby abduction. So yeah, he's a bit of a hero in that sense. Keep up the good work, whoever you are.
For the private school headmistress who hired her ex-students to kill the wife of her ex-lover, click HERE. That one didn't quite go to plan either.