I think having your penis bitten off is up there as one of the most terrifying things that can happen to a guy, so this story from over in Uganda is going to be one that sends shivers down your spine.
Featured Image VIA 
45 year old Bashir Mukaire was returning from his second wife's house to his first wife's home after a night out in Bugweri District last Monday 17th March and 38 year old Asifa Nakagolo was not happy about this. In an act of revenge, she charged at him and bit off his penis, causing a major tear.
Mukaire tried to justify that he was staying at his second wife's house overnight because she was pregnant, but this doesn't really make any sense when Nakogolo is also pregnant. I guess bigamy can get kind of complicated hey?
Here's what a doctor said about the situation: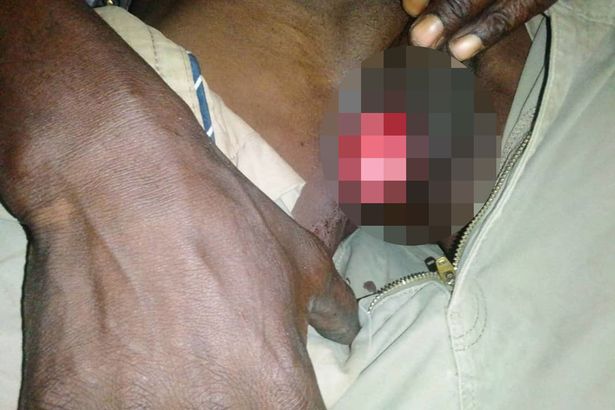 His penis can't be re-attached because it 'died off; so to speak before it could get to the hospital. This man will not be able to have sex for the rest of his life.

This man will be urinating via a catheter for the rest of his life according to injuries he sustained.
Damn that's cold, although considering that Mukaire already has nine children and it was arguably his dick that got him into this situation in the first place, maybe it's a good thing he won't be running around impregnating anyone any time soon? In all seriousness though, it sounds like a confusing situation we probably don't have enough information about to really judge, but I don't think there's anyway that Nakagolo can justify biting Mukaire's dick off here, even if he was screwing around on the and entertaining multiple wives. RIP to his penis.
For more of the same, check out this Florida man who used a pair of scissors to cut off his wife's lover's penis and steal it. Psycho.