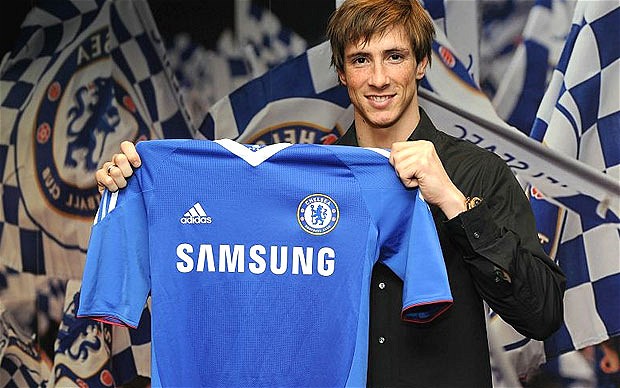 Speaking about his former club — Liverpool – Fernado Torres said today, "I think they have great ambition and they are doing the right things to get back, but it will take time. I didn't have that time."
In one sense, the 26-year-old Spaniard has a valid argument. Despite the feel-good factor provided by King Kenny's swift move from club "ambassador" (a title that ranks with Director of Football as one of the least credible in the beautiful game) to manager and the new faces brought in, Liverpool are a long way from being the force they once were.
However unless the immediate prospect of jumping on Chelsea's bandwagon and challenging for the Champions League drew him — a convenient second registration window for European squads takes place before the tournament restarts — why not wait until the summer?
After all, Chelsea are closer on points in the premiership to the Pool than they are to perennial leaders and unbeaten Manchester United. And despite the reverence paid by foreign players to the FA Cup, it is doubtful Chelsea's inclusion in that competition was suitable bait either.
Of course the truth is more likely to found in the £50 million transfer fee — specifically the percentage paid directly to Torres — and the chance to be involved in the more continental set-up.
But why so much, considering Torres's fellow World Cup winning Iberian David Villa went for around £33 million last summer to Barcelona — arguably a marginally better player, less injury prone, albeit a couple of years older.
The answer is to be found in the transfer window itself, encouraging panic buys since its introduction in 2002. The system allegedly works by encouraging teams to hold onto squads of players to add consistency and conformity to league seasons around the world.
It originated from negotiations between FIFA, the European Union and FIFPro ; the players' union. European Union restrictions prevented a season long embargo on transfers and FIFA was petrified at a completely open market whereby squads would morph week to week as players jumped ship willy-nilly.
The trouble is with the gaping window at the start of each year, around half the clubs are in the midst of a battle to stay in the league they are in or win it outright. This drives up prices, leaving some clubs blinded by money to release players at the height of their stock and others to raid their chests to fund a signing in the vague hope he'll make the difference between success and failure.
At the start of the season, clubs know after four or five games that they then are locked into playing whomever they've got. This means struggling teams must limp along till Christmas with a squad the manager is doubtful about, hoping desperately it's not too late by then to rectify their side with a few choice signings.
But, it is argued, the window benefits all the clubs since they restock and ensure business is driven by a domino effect of gaps being left in clubs by departing players leading to new signings and so forth. However despite the mouth-watering fee of 225 million being spent, when we remove the five or six biggest deals, the vast majority of English clubs spent pittance, relying on loan deals and free transfers.
Most clubs simply don't have the money to drastically alter squads even when given a 31 day opportunity. The window mainly benefits those clubs with seemingly self-replenishing wallets who can gobble up any necessary players to make up for any short-fall in results from August to December.
Ultimately, one can either demand for the loosening of EU law around professional sports to only let players move off-season or open the floodgates and hope that with less pressure to buy at specific times, even the most cash-dizzied of teams might curb their enthusiasm on a financial front. Either would be vastly preferable to the current curate's egg.