Ever since football's favourite scapegoat Luis Suarez was found guilty of racially abusing Manchester United's Patrice Evra in a Premier League game, I have despised the man.
Maybe it was the media furore that followed the distasteful trial of Suarez that convinced me he was a tosser, or maybe it was just his stupid buck teeth that caused a sway in my judgement, but for whatever reason, I hated him.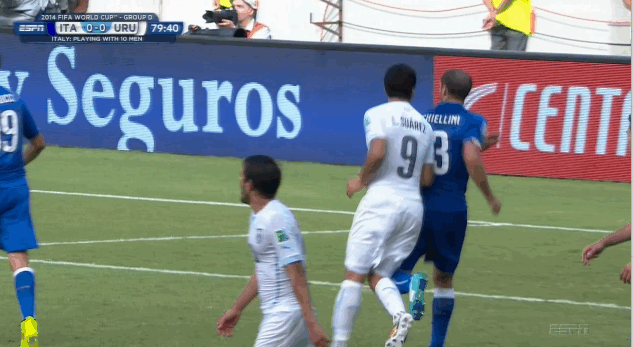 Ever since he joined our innocent little league here in England, Suarez has riddled it with controversy (and probably fleas, the filthy twat) like a bully enrolling a private school. He has performed impeccably in all forms of idiocy, be it racism, offensive gestures to fans, biting or physical assault. It seems that being an idiot is what he does best.
But this time, it has gone too far. When Suarez plunged his fangs into the shoulder of Italian defender Giorgio Chiellini in Uruguay's tie with Italy, I dropped my face into my palm and sighed, "What is WRONG with this guy?!" I could not seem to establish any defence for him in my head.
Noticeably, every time Suarez has done something surreal on or off the football pitch, the fans of his club Liverpool have defended him incessantly, as they simply cannot afford to hate their most talented player. It is almost like he is some kind of Scouse Messiah, or Michael Jackson or something. But this time, there was no defence; the boy had simply gone too far, and it was then that I knew he was fucked. He is a raving psychopath.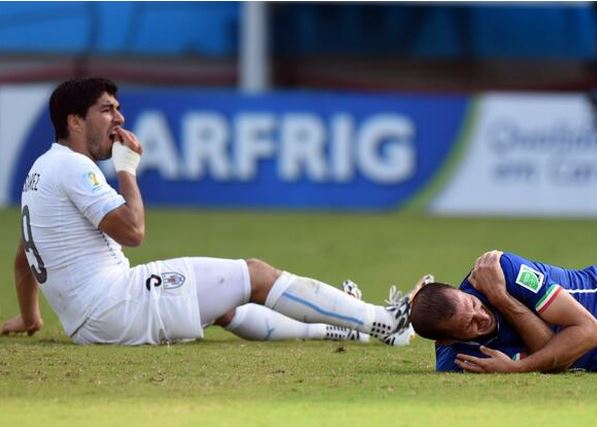 My Liverpool-loving friend, who will remain anonymous, said this of the Uruguayan to me on Facebook: "Fucking Buck-toothed ugly cunt!" This coming from the kind of fella who would cut off his left testicle just to keep Suarez at his club. Not anymore.
The 4-month ban handed to the striker seems fair, an aptly-destructive punishment for his crimes, but I am of the belief that it was too short. (Mind you, if I had my way, he would be hung naked from a tree while Patrice Evra cut off each article of his body with a rusty pen knife). But remember Cantona? That crazy son of a bitch kung-fu kicked a fan, once, after obvious provocation, and received a 9-month ban. Now don't get me wrong, in no way am I defending Cantona's actions, but to me, Suarez deserves similar justification.
Firstly, this was not the first time he has taken a chunk out of some one; no, it's the THIRD. He bit Ottman Bakkal on the pitch while playing for Ajax, and he bit Branislav Ivanovic on the arm just last year, both of which he received hefty bans for.
Secondly, he left noticeable physical damage on Chiellini's shoulder, albeit a rather small ickle red mark that wouldn't have made a two-year-old flinch. But none-the-less, that is simply unacceptable.
And thirdly, the motherfucker even tried to get Chiellini in trouble by throwing himself to the floor and clutching his face after the Italian batted Suarez off his back as though he was under attack from a vampire. This showed an immediate lack of class, not that any show of respect would have aided his case.
What made me laugh was the way Suarez squealed in pain while holding his teeth, as though he had struck bone while digging them into human flesh. I sincerely hope that next time he visits his dentist to sort out those ugly, protruding fangs, the dentist takes a hammer and knocks every single one of those things out. It would do the world a whole lot of good; they've done enough damage already.
There are positives to take from this case, however. The speed with which FIFA acted on the situation impressed me, and with FIFA's recent beef, this was a rare act of genuine common sense. And I'm glad that even Scousers will no longer defend the little devil. Suarez's actions were simply unacceptable, however much 'Chiellini' may sound like a tasty Italian starter.