Apparently hipsters love jeans as much as coked up, wealthy young investment bankers love business cards. And they do love their business cards.
The new advert for jeans manufacturer Denham has recreated the classic business card scene from American Psycho, replacing arrogant, egotistical Wall Street bankers with arrogant, egotistical hipsters. As you can imagine, it's really fucking funny.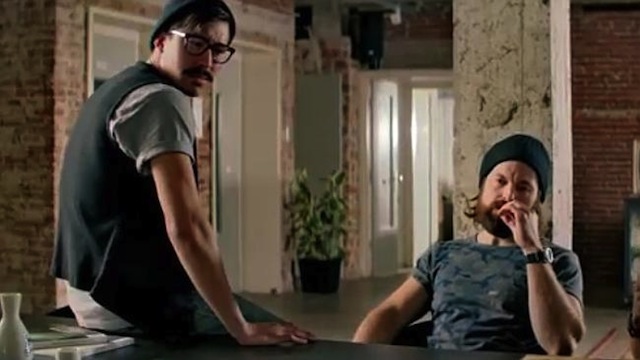 Instead of getting worked up about each other's business cards, these guys are more interested in each other's jeans. Hipster #1 is rocking virgin denim, nice, and gets a respectful 'ooh yah' to acknowledge a fine choice. Hipster #2 thinks he can go one better, however, and reveals he is wearing what he describes as the perfect skinny. "Practically a second skin." Hipster #3 raises the bar once more with his "new" vintage denim, an Italian laundry recipe that is based on a 36-month wear pattern. But hipster #4 has gone for something extra special — Otaku, the holy grail of Japanese denim, which is reputedly washed in Sake.
Nope, I'm not sure what any of that means either.
The hipster Patrick Bateman (Bikeman. Obviously) isn't going to stand for someone wearing more desirable denim than him. If you haven't seen the original I won't spoil the ending for you, but it involves Indonesian kopi luwak coffee beans.
☛ More American Psycho: Unreleased Scene From American Psycho
The creative director of the agency who made the parody, Amsterdam based Flickering Wall, said he came up with the idea after listening to Denham's founder Jason Denham talking about jeans: "I recognized the same manic attention to detail and ravenous appetite for craftsmanship. This triggered the idea for a modern-day remake of the scene." They definitely hit the nail on the head with this one, watch the video below:
[TEST url='http://www.youtube.com/watch?v=IpHU6TkqWjs&list=UUggVoL0XJNZ00O6vWKhej7Q&feature=c4-overview']
And here's the original scene in case for some ridiculous reason you haven't watched it before:
☛ Up Next: Frustrated American's Angry Rant At Justin Bieber
[TEST url='http://www.youtube.com/watch?v=cISYzA36-ZY']