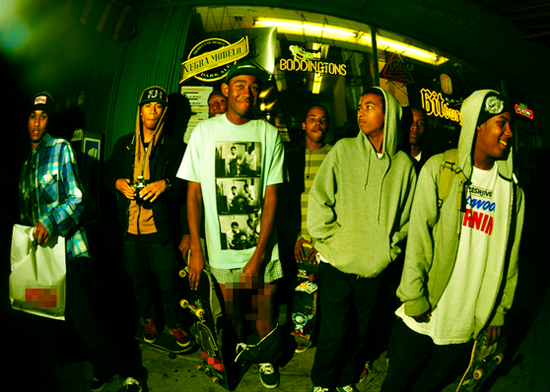 I thought I'd kick off my opening post by simply mentioning the name OFWGKTA. "What the hell does that mean?" Odd Future Wolf Gang Kill Them All is their name, and tearing shit up is their game. The 10-deep Hip Hop collective straight outta L.A. have seen their hype surge since their leader, Tyler the Creator, released his controversial Yonkers music video on February 11, unveiling his crude, corrupt, yet undoubtedly compelling, personality to a mass audience – as I am writing this, a boastful "2,154,700" sits neatly on its YouTube page. Kanye West called it the video of 2011.
To further carve the name 'Odd Future' into the minds of mainstream culture, Tyler and fellow group member, Hodgy Beats, molested the airwaves by performing on Late Night with Jimmy Fallon, leaving Mos Def "screeching" in the camera's face at the show's close. In a time when catchy and sing-along pop-rap singles have commandeered the industry, leaving the purists yearning (and blogging) for a Golden Age renaissance, I am one to fully welcome a crowd of kids who are bringing back a don't-give-a-fvck-Wu-Tang attitude to Hip Hop. Here's a quick run down of the crew:
TYLER THE CREATOR – 19, the leader and the biggest name of the crew, brings both the personality and the shocking antics go with it, you should definitely keep an eye out for his upcoming album, Goblin (@fucktyler)
EARL SWEATSHIRT – the second most recognisable name, his brutal and raw lyrical content and creative wordplay both transcend his young age (dude's only 16!)
DOMO GENESIS – the resident stoner, adds an obvious laid-back steez and balances out the frenzied energy of the group (@damiergenesis)
HODGY BEATS – a boastful, yet, consistent MC, takes Odd Future's swagger to that next level (@KILLHodgy)
MIKE G – even though the stoner role has been shotgunned, Mike G raps with such a relaxed flow that would probably give you a contact high just listening to him (@MikeGKTA)
FRANK OCEAN – singer, mixes up Odd Future's style, while Tyler and Earl's music most likely induces mosh-pits brimming with violent and barbaric teenage boys, Frank gives something for the ladies to groove to (@frank_ocean)
LEFT BRAIN – one of the clan's in-house producers, teams up with Hodgy Beats to form a group within the group called MellowHype (@ofwgLeftBrain)
THE JET AGE OF TOMORROW (aka Matt Martians and Hal Williams) – production duo, formerly known as The Super 3, they can cook up some spacey beats (@thesuper3)
SYD THA KYD – 18, producer and engineer, the only female in Odd Future, when asked about her feelings on possible-sexist lyrics from the guys, she says "that's what I do, I slap bitches in the face" (@sydOFWGKTA)
You're now wanting to hear some OFWGKTA, right? Check out my review of Goblin.
Follow me on Twitter: @aboynamedandy
Read more at: hiphopisntdeaditsjustsleeping.blogspot