Following the news of Derek Chauvin's guilty verdict earlier this week, a sign has gone up at George Floyd Square at East 38th Street and Chicago Avenue in Minneapolis giving instructions to anyone visiting the area, and extra special instructions for white people.
Featured Image VIA
Have a gander: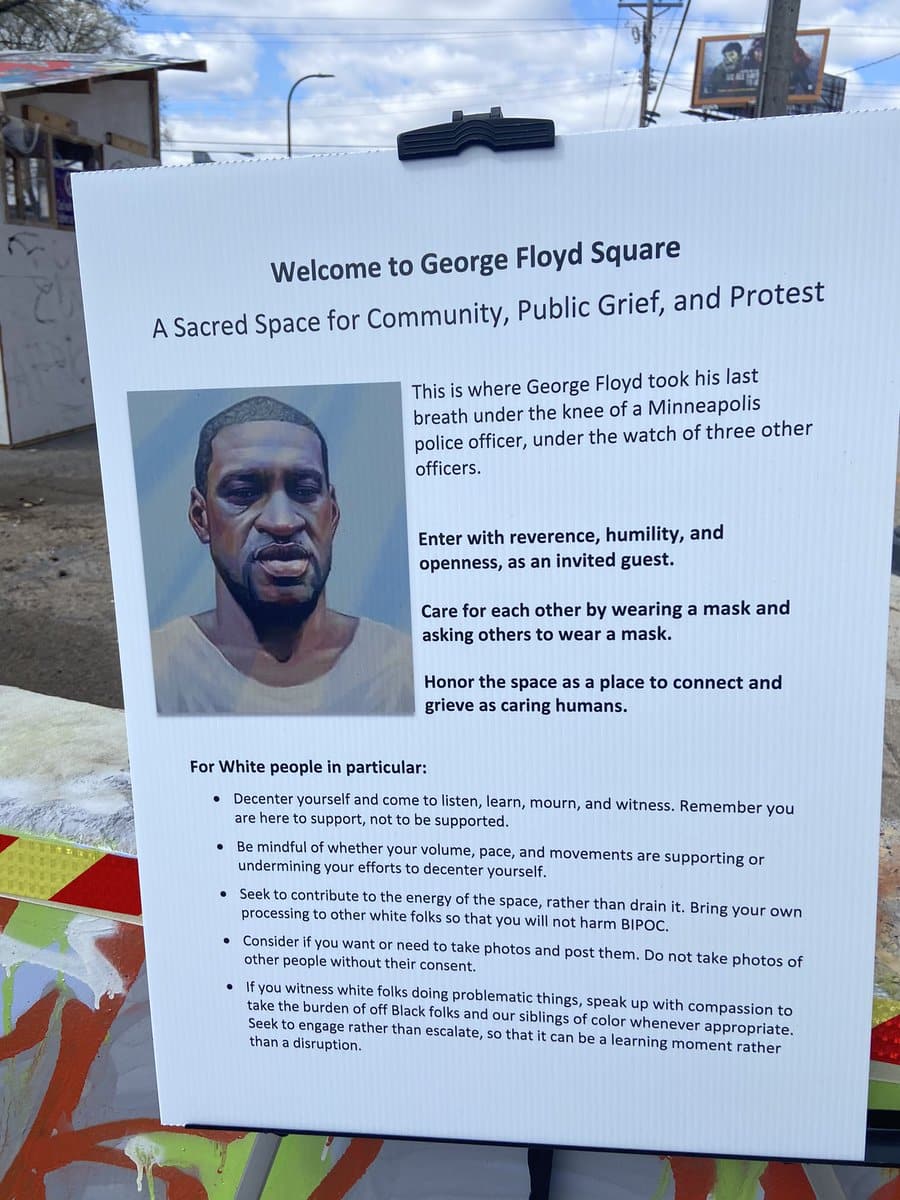 Hmm. Is that helpful? Is it something that needs to be said in the current climate over in America? Reaction on Twitter was mixed:
'Progressives' talk about black people as if we are wildlife. 🤦🏾‍♂️

— ZUBY: (@ZubyMusic) April 22, 2021
Honestly. I think I'd be more comfortable with a blatant black supremacist movement than this one that treats black people as helpless toddlers or animals with no agency.

— Skeptique © (@Skeptique) April 22, 2021
Imagine what would happen if a 9/11 memorial gave similar instructions to Muslims.

— Leon Mask (@gme_market) April 22, 2021
You all don't know that this neighborhood hood is diversified. Whites and blacks control the gates. White sand blacks are part of the community. This is a sign for peace and to keep this place sacred. Also whites in particular if you see harm being done to a black brother stand

— bella (@bella15673558) April 22, 2021
Disheartening reading through the replies but ironic at the same time. The sign wouldn't exist and address the points if there wasn't disrespect from white people in the square as an ongoing issue.

— bethany༶ (@messybethy) April 22, 2021
Very respectable sign. Been there myself and it was very healing

— Clancy (@Clancy_2) April 22, 2021
I wish I understood what half of these rules actually mean

— electric sally (@electricsally7) April 22, 2021
Aaaand that's racism.

— DB (@dbond123) April 22, 2021
The sign is addressed "for whites in particular" because we are unlikely to recognize the sacredness of the spot. It also applies to anyone else of any race who needs a reminder that the spot is sacred.

— J Pinkney (@Joni_DaNerd) April 22, 2021
Seems like very split opinion indeed. Wonder if it might've been a better idea to generalise that message rather than aim it at a specific group? Maybe that's just how damaged race relations are right now over in Minneapolis. It's bound to get better soon though with Joe Biden & Kamala Harris in charge, right? Right?
View this post on Instagram
For a look at the 18 violent complaints Derek Chauvin had against him during his time as a police officer, click HERE. Seems there was something of a pattern.