As far as the vegan revolution goes, Wetherspoons seem to be some way behind some of the other major high street food favourites but that's all set to change as they've now announced that they've finally added their first vegan burger to the menu.
Featured Image VIA
The national pub chain have revealed that they'll be putting The Meatless Farm vegan burger in all 880 of its UK outlets after a successful trial at 40 of them, where they sold more than four times what they were expecting. You'll be pleased to hear that Tim Martin is sticking to his Brexit principles and that The Meatless Farm are a Leeds based company, going up against the more established US firms Impossible Burger and Beyond Meat.
For those of you who care what the vegan burger is made of, it will consist of pea, soy and rice protein, chicory root and carrot fibre. Sounds pretty good I guess if that's your thing, right?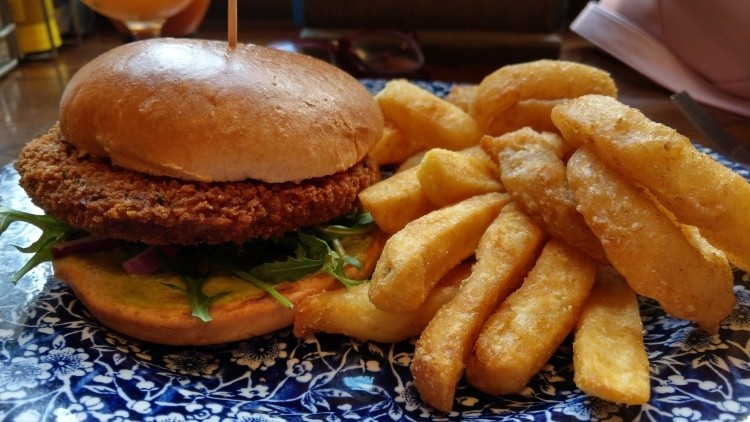 I mean it even looks OK in a none publicity shot which is pretty good going for Wetherspoons, right? Wetherspoons head of catering, Jameson Robinson, said the following about the new burger:
We are keen to offer vegetarian and vegan pub-goers an excellent choice of meals to enjoy at Wetherspoon.

The plant-based burger is a great addition to the menu and we are confident that it will prove popular with vegetarians and vegans as well as those who eat meat.
Lol I bet he didn't really say that, it's well boring but you get the picture about Wetherspoons being pretty happy about rolling it out and giving that extra choice to the vegan community out there. Long may it continue – apparently there are now 10 vegan meals on the Wetherspoons menu, including jacket potatoes, chili and curry. Yum.
For more of the same, check out this girl who waited hours to receive the worst ever vegan meal possible. Not at Wetherspoons anymore babe!