Veganism has come a long way in the last few years with many of the vegan options available rivalling some of the more traditional meat based meals at your local restaurant in terms of both taste, price and nutritional value.
Images VIA 
Unfortunately this isn't the case everywhere though and there's still the possibility that if you're a vegan that you could get completely rinsed when you order your food because that just seems to be what happens to vegans sometimes. Dangers of the job description I guess.
This is exactly what happened to Taylor Mooney when she decided to visit Kathrin's Biergarten in California to celebrate Father's Day with her family. Taylor was forced to wait for two hours for her meal and then when it did finally turn up it looked absolutely awful, as you can tell by the pictures on this page.
In case you were wondering, it was advertised as a 'vegan pretzel bun filled with delicious veggies' but it instead looks like a couple old green beans and carrots stuffed inside a dried bun  and then thrown in a rubbish bin for two days to season. Taylor explained to UniLad exactly what happened: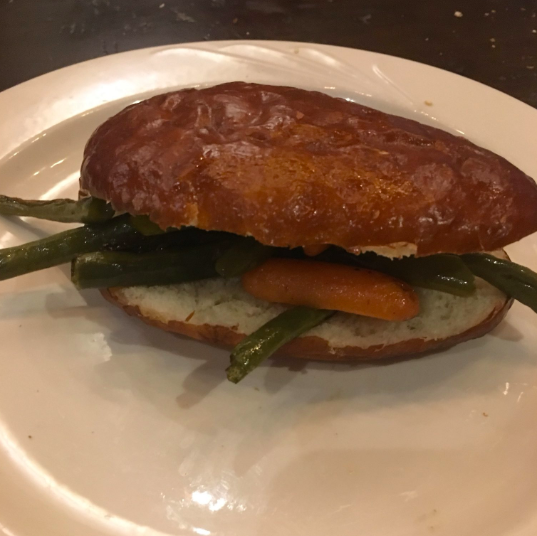 This new German restaurant opened and its really rare so we were all super excited to go, especially me because they advertised themselves as being vegan and vegetarian friendly.

I was with my whole extended family and had a private room. Someone's food came out after a little over an hour and no one else's came out for at least another half hour so by that time he was already done eating so it was really bad customer service anyways.

Our server was wearing grey sweatpants and a messy bun and it was really weird.

My meal was so dry I had to drown it in mustard and sauerkraut. When I actually started eating it was so gross. Crunchy vegetables on dry bread does not go at all – it's such a weird texture!

I was also the only one who didn't get a side. Everyone else had massive plates with tons of food on it and mine came out with just this and it was the saddest looking thing and all our jaws dropped and then we started laughing at it because we were expecting so much more.

Some of the other meals people got had things like lettuce and onion on them and I didn't get either of those.

Tons of people on social media have been shocked by it or thought that I was joking. It's kind of funny to read all of the responses to the tweet.

I did get a lot of people telling me to not eat at non-vegan restaurants if I actually want something and there were a lot of non-vegans telling me that I was just causing the cook trouble or whatever.

But they don't realise this is an ACTUAL menu item, that they advertise to their vegans because they think it's what we want.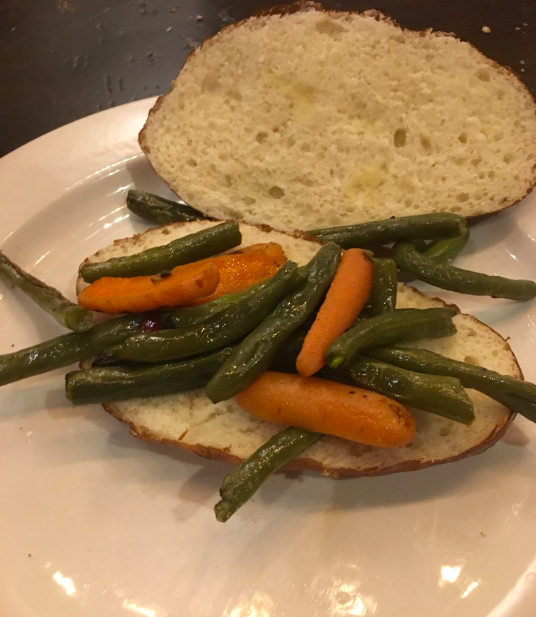 I mean fair point really, but I suppose if you're gonna do the whole vegan thing then you probably need to realise that this is the kind of stuff that happens all the time. Just comes with the territory – at least it seems to be getting better for the most part though.
Still, it's gonna be a long time before it's fully integrated into society so maybe stop complaining and giving vegans a bad rep eh? Just a thought.
For more vegans, check out this story about a woman who accidentally ate a McChicken Sandwich. That's not so good.