The Brexit saga continues to rumble on with another delay seemingly on the horizon, but there is some good news to come from it finally: Wetherspoons have announced that they'll be reducing the average cost of their pints by 20p to promote it.
Featured Image VIA
Tim Martin made the announcement today, saying the following:
At the current time customers and businesses pay tariffs on thousands of products which are imported from outside the EU.

These tariffs are collected by the UK Government and sent to Brussels.

Provided we leave the customs union on October 31, the Government can end these protectionist tariffs, which will reduce prices in supermarkets and pubs.

In order to illustrate this point, Wetherspoon has decided to reduce the price of Ruddles bitter, brewed by Greene King.

A lot of politicians have misled the public by suggesting leaving the customs union would be a cliff edge or disaster.

This is the reverse of the truth. Ending tariffs will reduce prices.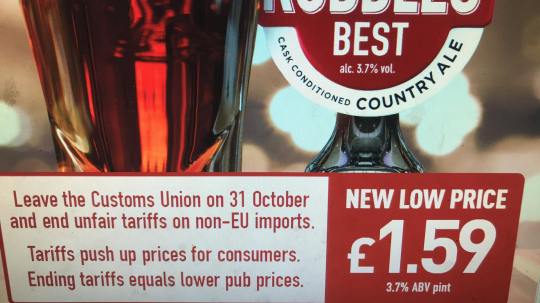 Hmmmm. Not really sure if the fact that he's reducing the price of Ruddles to illustrate that prices will go down when we leave the European Union really makes the point that he's trying to make there? Surely if he can reduce the prices now whilst we're in the European Union then it doesn't really make any difference when we come out if it because he has the power to do it whilst we're in it?
Kinda confusing that, but feel free to explain it/bitch at me in the comments. All good.
For more of the same, check out this Brexit survival box for just £300. Bargain.