Meet Eric Andre – the comedian, host and creator of one of the weirdest shows on TV, 'The Eric Andre Show'.
Featured Image VIA
Aired on Adult Swim and starting back in 2012, this wonderfully surreal show parodied low-budget public access talk show and features Eric himself along with comedian Hannibal Buress who serves as Andre's sidekick.
The show has become somewhat of a cult classic thanks to its David Lynchian disruption of normality, which has taken on a resonance with both surrealist comedy lovers and reality escapists alike.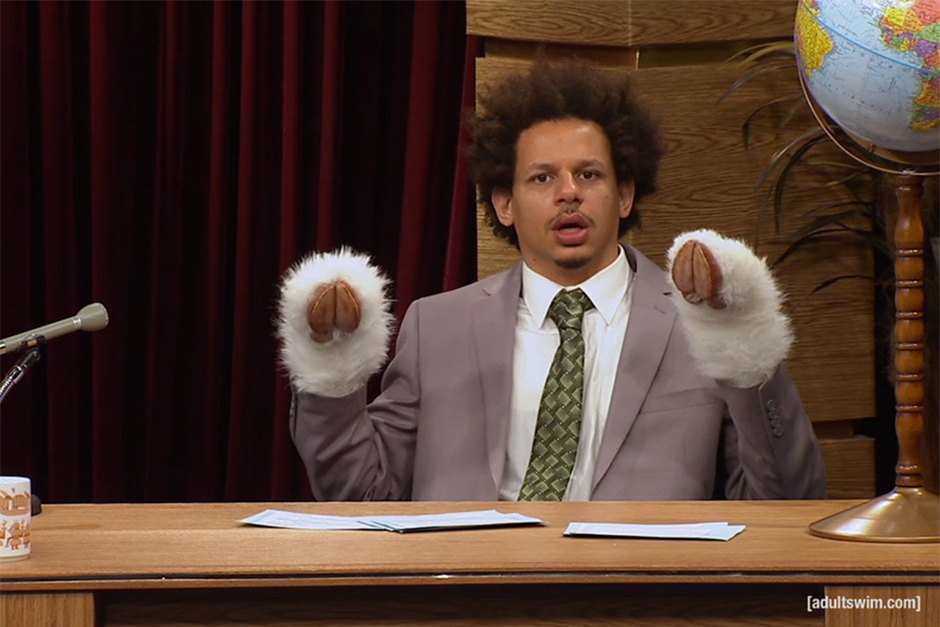 Amazingly, Eric, now aged 34, spent many of his years struggling as a twenty-something stand up comedian in New York and L.A. During this time of struggle, during which Eric experienced "full depression and anxiety", he took a turn after discovering Transcendental Meditation – one of the practices that led to the pilot of the Eric Andre Show.
Now in its fourth season, series revolves around a lethargic, sociopathic talk show host who does his best to shock, disgust and disarm the celebrities who visit it as well as the general public who have to deal with his on-street pranks.
Although you might think a lot of the show is adlibbed, it actually involves a lot of careful planning. For each season, Andre produces 150 segments with writer Dan Curry and director Kitao Sakurai. Eric says:
People don't even think we write, you know? The show is very thought out, very deliberate. A lot of work goes into every single choice, every prop, every costume, every editing choice. It's meant to look like it's off-the-cuff and about to break at any point, but it's organised chaos.
"Chaos" definitely being the key word here. To inspire him when writing his surrealist comedy, which has been described as a hodgepodge of Tim & Eric, Tom Green and Jackass, he listens to Venetian Snares and it makes total sense. Both of these artists create joyful, alien noise.
Some people have drawn the show's resonance to the political chaos in recent times – in a world of so much disconnection between society and politics, 'The Eric Andre Show' is a small defense mechanism with vulgarity as its weapon. Although Eric insists there is no agenda aside from to entertain, disgust, confuse and amuse.
The burden of artistic interpretation is not on the artist, it's on the viewer. So whatever people take away from it is what they take away from it.
And do you know what I take away from it? Pure joy.
For more surreal comedy of a completely different kind, check out our homage to the short but impactful 'Garth Marenghi's Darkplace'.