The last time I went to a social club was in 2004 with my grandmother, shortly before she passed. We played bingo, and I remember winning a banana or something equally as underwhelming, because that's what social clubs were like. They served chips and gravy, women drank tea and sherry at the same time, and men still stood up when they approached a table. The leisurely ladies all crowded round me insisting on how much I'd grown, and gave me spit washes despite my reasonably good hygiene. I used to enthral myself in conversation of coupons, Clostridium and catheter bags, listen to gripping stories of war, I even learnt to waltz by standing on the feet of my grandmother. They were institutions which should have oozed the banality of life and the fast imposing reality of death. And yet they were jovial places. I remember my grandmother smiling away at old Lindy Hop movies or tapping her feet to crackling Glen Miller greats. It brightened her Sunday up and so it brightened up mine.
Over ten years later and I'm in a social club once again, perched on a decrepit chair covered with mottled velvet lining. The room is modest, conservative and smells like cabbage and dust. If I close my eyes I can almost picture the little hatch serving chips or feel the amicable tugs on my cheek from admiring ladies. The only thing I can possibly spot that might be considered even an inch out of the ordinary is the six foot two man sitting in front of me, donning a purple jumpsuit and wearing an isosceles triangle on his head. If it's not that it could be the girl dancing naked about the changing room with her breasts painted like eyes, and a giant pair of foam lips hanging around her waist. This is the Bethnal Green Working Men's Club. It's the only place in London you can go into the loos and see a man dressed as a woman, a woman dressed as an androgynous mermaid, and an eighty year old geriatric trying to work out where he took a wrong turn.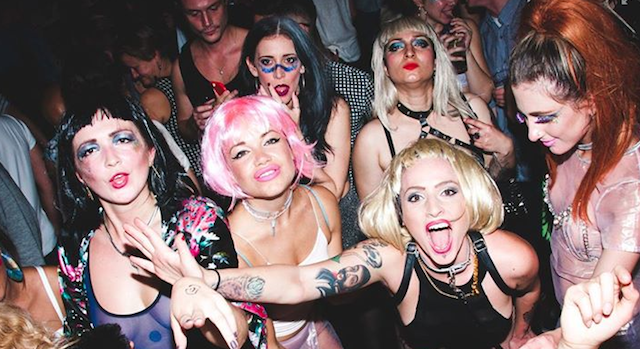 Sensing a gap in the London club scene, Glynfamous and Amy Zing started Sink the Pink in 2008. I ask Glyn what the hell was going through their minds.
It's only as we get older that we learn to be insecure
Glyn recalls, realigning his headpiece in the mirror.
And Sink the Pink is the only place you can come in, go back to childhood and do what the hell what you want again.
The anything goes approach is encouraged by Sink the Pink;
It's no judgement and no barriers for our guests, it's their night.
He explains that they planned to make this year the night's farewell.
But then something happened. They wouldn't let us do it.
I ask who could possibly have the authority to force such continuity.
Our punters. They've taken ownership of our night now, closing it down just isn't up to us any more.
Sink the Pink is an LGBT night which welcomes all of the other letters to join the acronym. In fact the only minority are those who view Sink the Pink as an opposition of normality. The very existence of gender and sexuality as societal concepts are either skewed entirely or stripped off you at the door, the training wheels pulled away. Of course this is hardly a new thing. David Bowie wasn't exactly shy to glitter and Lily Savage gracelessly graced our televisions in the nineties. But there does seem to be a difference. Whether intentional or not, the kings and queens of the past who have carved a path to equality have always promoted a political slant when pursuing their characters and further playing with then-controversial issues. Sink the Pink on the other hand, just doesn't seem to care.
"This isn't about politics any more. This is about having fun and being together". I talk to some of the performers and soon realise just how right he is. The recently crowned Miss Sink the Pink tells me of the damage gender boundaries have done to society, but argues that "it's time to start challenging that through the freedom of expression we've earned. Sink the Pink was the first night that I felt free to express myself. It's about fun and sharing". And sharing is the norm here. Exclusivity has long drowned in the sea of indifference that clatters about the club in feathers and silk, in favour of celebration, hedonism and debauchery.
There's something quite magical about dancing with drag queens whilst old men sit in the corner sipping sherry and beer, quietly observing with a mixture of confusion and awe. Sink the Pink is choc with wickedness, corruption, nudity, glitter cannons and fake eyelashes, and yet in a peculiar way it somehow reminds me of the old social club I frequented with my grandma all of those years ago. Because it's only when you put us all under the same roof that you realise just how well one can waltz to pop music. And waltzing we all are.