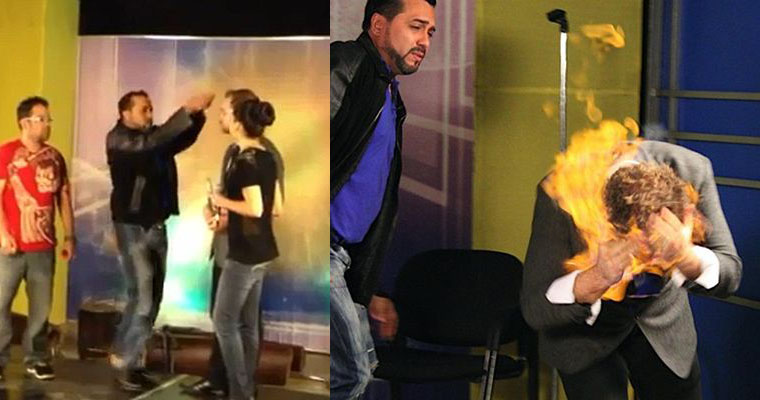 Follow AMJ @amjeezie
It was just another average day for fame-hungry American magician, Wayne Houchin, as he appeared on a TV show in the Dominican Republic. Welcomed in, or so he thought, by the host of Closer To The Stars, Franklin Barazarte – the magician had agreed to perform a couple of tricks for the viewing public.
Houchin has only just finished a season as the host of the Discovery Channel's quasi-popular Breaking Magic show and was on tour with his wife and two other magicians who were all expected to perform some tricks on the programme.
Things took a slight turn for the worse when would-be pyromaniac Barazarte decided to make the Californian magician feel a little more at home by dousing his poor head in a flammable cologne, Agua De Florida, before setting him alight.
Nobody is entirely sure why the host decided to cover him in this flammable liquid and set his head alight – the television programme and studio have declined to comment on the whole situation. It has also come to light that the host was in fact a step-in replacement as regular host Adriana Azzi was unavailable for the show.
☛ More: Mario Balotelli – Master Magician
[yframe url='http://www.youtube.com/watch?v=Kp7phzzvnjE']
Word has spread like wild fire regarding the host's attempt to live the dream of Keith from The Prodigy and apparently he was attempting to bless the magician and that this cologne is often used in Santeria rituals (West African/Carribean religion).
The host requested that the magician's wife pour cologne into his cupped hands and then the other magician was told to light the fluid. As soon as it went up the host poured it on to Houchin's head and rubbed it right into his face. The footage was recorded, however, it never actually made the nationwide show – but was luckily caught by a member of the magician's crew who took the video on his mobile.
The magician has come out on his facebook page to make a statement regarding the incident:
"The attack was intentional. The host didn't trip and accidentally spill it on me. He intended to pour flaming liquid on me. The host's intentions will play a role in the severity of his punishment, but that's for a court of law to determine and decide. I was not aware he was going to do this. This was not a stunt or part of an act – this was a criminal attack."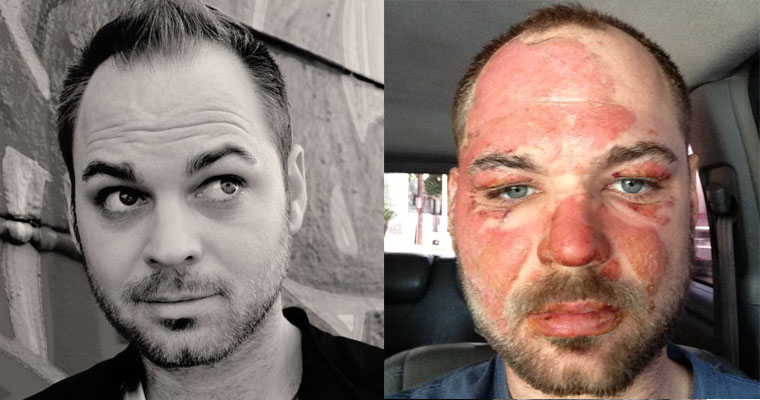 Houchin is now receiving treatment for the burns to his face, hands, and scalp – however – doctors remain optimistic that he will not be indefinitely scarred as a result of this. Hochin has contacted lawyers and intends to sue both Barazarte as well as the TV company for all that has happened.
Follow AMJ @amjeezie