Walkers and Heinz have just announced that they've combined their snack knowledge to create a variety of sandwich flavoured crisps. Can't say I've ever wished for sandwich themed crisps, but now they've mentioned it, I think it might be the best idea in the history of snacks.
Images VIA
The limited edition crisps come in six flavours:
Cheese Toastie & Worcester Sauce
Sausage & Brown Sauce
Bacon & Tomato Ketchup
Ham & Mustard
Roast Chicken & Mayonnaise
Cheese, Cucumber & Salad Cream
Not really sue how cucumber is going to translate on a crisp, but 'Cheese Toastie & Worcester Sauce' sounds banging.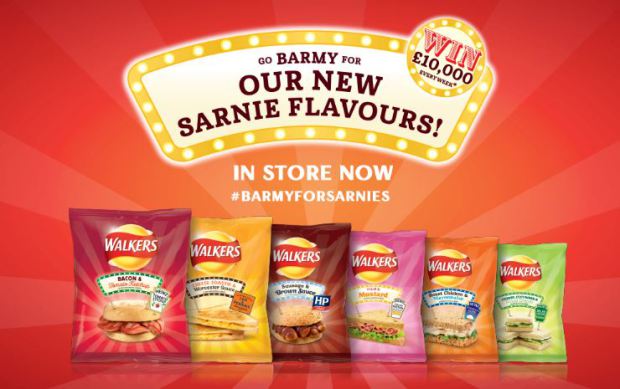 To launch the new flavours, Walkers is opening a 'speakeasy style' crisp sandwich club, which will be hidden behind a movable crisp shelf in London Bridge. Anyone who's lucky enough to enter this exclusive 'club' will be allowed to make their own crisp sandwich by choosing from a range of fillings, crisps and bread. My personal favourite is salt & vinegar with bacon, in case you were wondering.
Tickets for the club, which is open from 8th September, go on sale next week. So if you're really into the idea of spending your weekend making crisp sandwiches then head on over London Bridge and make yourself a snack. Or just do the same in the comfort of your own home.
For more on crunchy snacks, check out our list of the best crisps in the entire world.