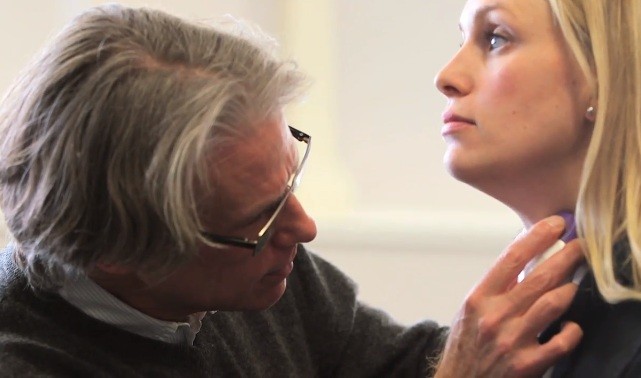 David Ley, Vocal coach and Professor at the University of Alberta, has gained a significant amount of attention due to his unorthodox method of relaxing his students throats… by using sex toys.
"I know it's a bit different … I know there's a giggle factor, but it works. It relaxes tension in the larynx … it improves range and projection."
Lee began to use the vibrator on actors at the Stratford Festival in Ontario. The festivals head of voice and coaching, Janine Pearson, stated:
"Of course, he was trying to get a reaction… and he did."
New hangover cure: A glass of bloody mary, bit of Dominos and a massive rampant rabbit massaging your sore, dehydrated throat.
According to The Huffington Post:
'Speech pathologists massage the larynx to loosen up tension, but some people hate the feeling of fingers on their throat so Ley began to search for a new method that would help performers increase their vocal power.'
So let me get this straight… people would find it more comfortable to have a vibrator on their throat than a finger? And who are these people who can't stand fingers on their throat? Man up!
Ley's search for an aid to stimulate vocals at first began by exploring various massage machines – but they were too awkward to implement, so Ley decided to take a trip to the sex shop.
"I was in the middle of the store testing it on the throat of a friend," Ley said with a laugh. "The girl behind the counter was intrigued but she listened to every word I had to say about voice and coaching. I'm sure she's heard it all."
What about the end of an electric toothbrush? Those toys you'd get that would vibrate or start talking when its cord was pulled?
"What I'm trying to do is to help the person hit that high note or harness their emotional energy."
Yeah, harnessing complete dread and confusion as your Uni Professor starts rooting around in his Ann Summers bag.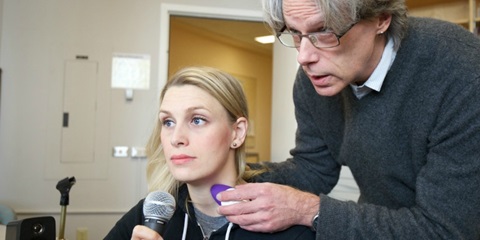 Think I'd feel a bit more at ease with a giant bumble-bee toy pulsating on my throat than sex toy in all honesty. Though David Ley is vehemently regarded as an absolute professional as well as being highly trusted by senior members of the University.
If it's a case of an academic (who doesn't give out pervy vibes) who can easily deflect the situation with a bit of humour – then yeah, alright, could be worth it for the story potential. Not some creepy Dr. Shipman looking manlurking in the shadows of his vibrator cupboard ready to come out and make you touch cloth.
Maybe it will catch on, become the norm and soon music A-Level students will clog up sex shops practising their warm-ups … that'd be an interesting school trip.
[yframe url='http://www.youtube.com/watch?v=XZSEbykum5k']