I don't think that you can deny that it's really funny when you see a word in another language that means something different, so you can kind of understand why a village in Austria called 'Fucking' has been inundated with people having sex in front of its sign.
Images VIA
However, you can appreciate that it's probably a bit annoying for residents of said village, as it's the kind of thing that's funny once when you do it but if you have to see people doing it every day of the year it probably becomes a bit tiresome. This is why the villagers decided to change the name of their town to 'Fugging' in an effort to try and stop people from shagging out in the open all the time.
The signs also previously had to be weighed down with theft resistant concrete as people kept stealing them which was also obviously pretty annoying for everyone living there too. The change will come into place at the beginning of 2021.
Here's what one fed up resident had to say about it: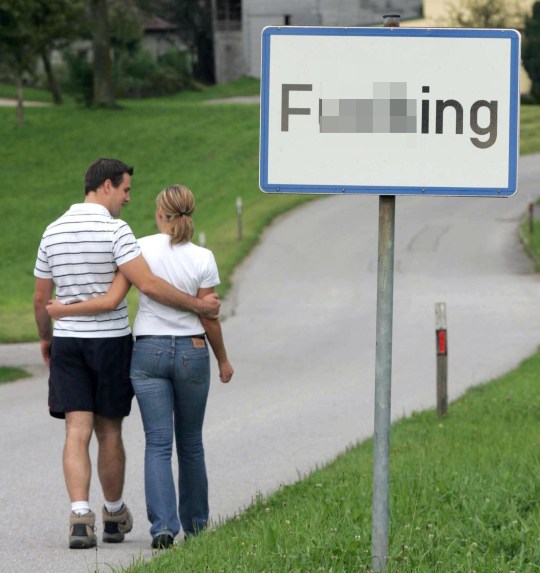 I'm sure each of them think they're the first to think of it but believe me they're not.

We've grown very tired of it and we're doing something about it.

We've had enough of visitors and their bad jokes.

We are a very traditional community and we find this sort of public display shocking.
Yeah I suppose that's fair enough as the village has been the butt (lol sorry) of everyone's jokes since it was first founded back in 1825 by a guy called Focko. PornHub even offered all residents a lifetime membership back in 2018 as part of one of its promos, so you can understand the unwanted worldwide notoriety that they've received over the years.
Hopefully this works out for them, but I can see people still heading there to do exactly the same thing just to spite them, especially now that the name change is getting so much global attention. Sorry guys – at least this year has probably been a bit quieter because of the global pandemic.
For more of the same, check out this story about a perveted couple caught having sex on a London train. Rank.