Niagara Falls are probably the most famous set of waterfalls in the world but these are closely followed by Victoria Falls in southern Africa, although if the picture above is anything to go by then this might not be the case for much longer.
Featured Image VIA 
The picture is an indication of just how the waterfalls have been affected by climate change. We are currently in the dry season where the water level falls, but even so the difference is said to be unprecedented and President Edgar Chagwa Lungu is laying the blame firmly on global warming: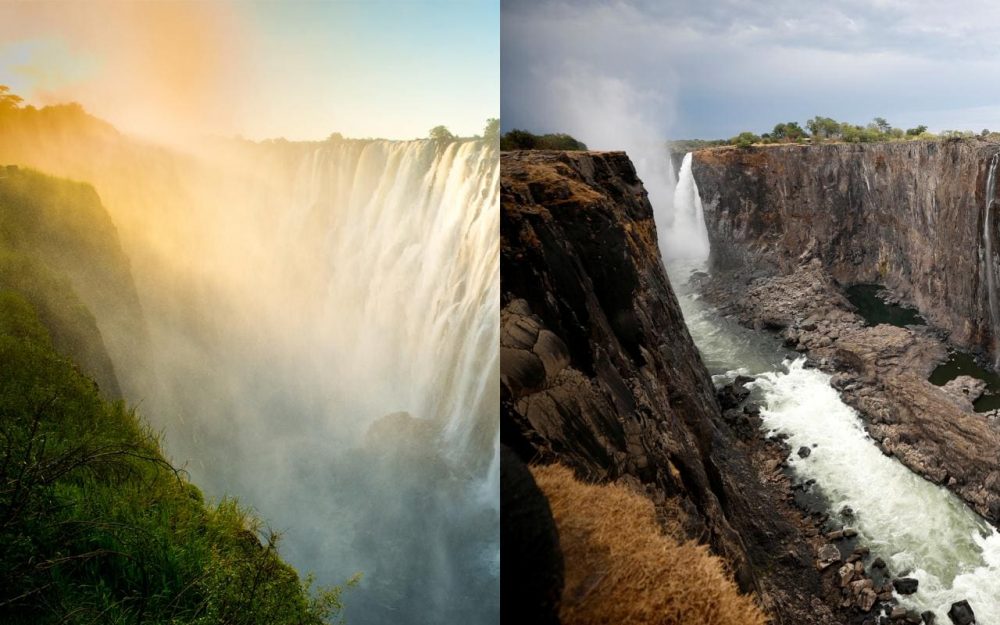 These pictures of Victoria Falls are a stark reminder of what climate change is doing to our environment and our livelihood.

It is with no doubt that developing countries like Zambia are the most impacted by climate change and the least able to afford its consequences.

It's [climate change] a serious problem, a genuine one. And it is surprising when people trivialise it and say 'climate change is not real'.

Probably they're living in a different world. But this world we live in, Zambia, we are feeling the effects of climate change really adversely. And it is impacting on everyone.
I mean he's got a point hasn't he? Unless you're a climate change denier of course.
Sadly, the drying up of Victoria Falls is a major problem for the country in more ways than one. Not only because of the destruction of an incredible natural landmark but also the knock on effect has caused their tourist industry to drop 40% over the past decade.
The county also heavily relies on hydropower as it's landlocked and the lack of water has also led to way more power cuts over the past few years too. It's a huge problem and one that it sadly doesn't look like the country will be able to resolve any time soon. Sad.
For more of the same, check out this guy who is so determined to get a burger who pushes climate change protesters out of the way. Kind of sums it up hey?