We've featured a whole load of weird and wonderful videos here on Sick Chirpse over the years and it's crazy that we can still get surprised by some of the stuff that's out there on the internet.
Images VIA 
I never thought that I would be uploading a video of some veterinary nurses juggling a dog's castrated testicles onto the website but here we are and this is exactly what has happened below. The nurses were performing the surgery at Ohana VetCare clinic in the Pasir Ris area of Singapore, when they decided to start bouncing the dog's castrated testicles on the floor, juggling them and just generally messing around with them. 
If you want to watch that then the video is below, but be warned, it is actually as grim as it sounds:
Ew. Needless to say, once the video hit the internet and went viral the two  nurses in question – named as Janice and Leandra – have been suspended from duty whilst an investigation has been launched. There was also apparently another video where they made fun of a cat that had its ears surgically removed.
Here's the official statement: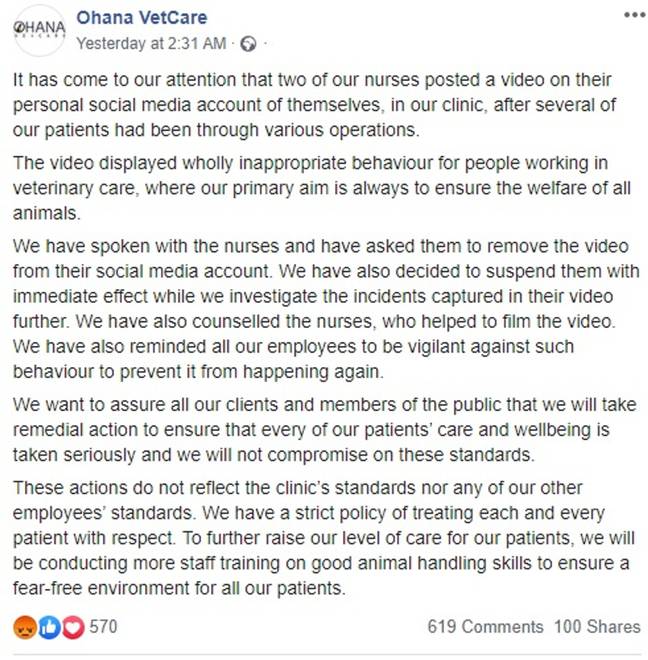 Yeah, think they're probably doing the right thing there as it really is quite despicable how these two nurses – who are supposed to care for and love animals – are making fun of them and actively mocking them in these situations. Really poor move on their part, especially posting it to social media like it's a joke. Are they actually braindead?
Arguably, the clinic could perhaps punish them even more by firing them or even handing them over to the authorities for animal cruelty. Hopefully their 'investigation' will yield the correct results.
For more of the same, check out this vet who gave a goldfish braces. Much better.