There aren't that many stories out there about vegetarians eating meat and then suddenly throwing all their beliefs out of the window and embarking on a life of eating meat – it's normally the other way round if anything – but here's a bizarre story about a vegetarian woman who ate one burger and loved it so much she became a butcher.
Featured Image VIA 
49 year old Tammi Jonas became a vegetarian back in the 1970s after she read a book about the treatment of animals in the factory farming industry. When she was pregnant with her third child though and feeling anemic, she decided to eat a burger to sort it out – her first meat in ten years – and since then switched her life around, now owning a pasteurised pig farm in Victoria, Australia.
She explains why she made this decision below: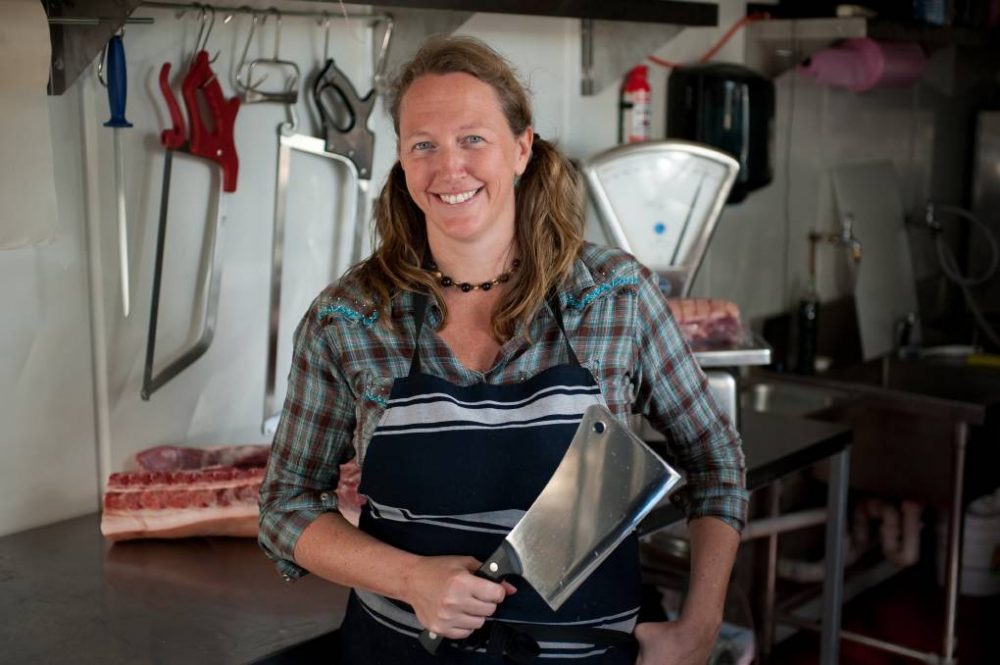 I was at work one day and just thought: 'a burger would fix this'.

I went back to red meat, so beef and lamb, once a week throughout the pregnancy, and it was some years longer before I had any pork or poultry.

I never thought it was immoral to take an animal's life for food – I've always been comfortable with my place in the food chain, but I thought it was immoral to treat [animals] cruelly, to not allow them to go outside and breathe fresh air and to be confined in crowds in sheds.

My journey from mindless industrial eater to vegetarian to ethical omnivore led me all the way to become a pig farmer to contribute to the growing movement to get pigs and poultry back out of sheds and onto paddocks.

We now grow, butcher and cure all of our meat, and serve 80 households from our thriving community-supported agriculture (CSA) farm.

Some people will draw an ethical line that killing is bad. But I don't believe that – I don't think killing an animal for consumption is unethical if it had a good life.

This is what we're going for on my farm – an ethical and holistic approach.
Well I suppose when she puts it like that, it's not that bad that she ditched vegetarianism for the farm life, but it still seems like her views are diametrically opposed to most of the vegetarians I've ever encountered as many of them think that eating animals is fundamentally bad, regardless of how they've been treated during their lives. Maybe we'll see a new wave of vegetarians moving into ethical farming, but I can't really see that catching on. Seems like Tammi is probably one in a million.
For more vegetarians, check out this study that found that meat eaters have way more sex than vegetarians. Maybe that's why she changed over as well.