Urban Outfitters have pissed everyone in the world off by deciding to release a t-shirt with Kent State University on it with a red splatter effect on it. What's so bad about that I hear you cry? Well, in case you didn't know, 4 people lost their lives in 1970 on the campus when the Ohio National Guard opened fire on a group on Vietnam War protestors.
So yeah, it probably wasn't a good idea for Urban Outfitters to design a t-shirt associated with the university that looks like it has blood spatter on it, because obviously everyone is going to slam them for making something in such bad taste. And that's exactly what happened when they posted a picture of the 'one of a kind' sweatshirt on their website at a price of $129. They actually only had one of them and it was sold fairly shortly after it went on sale (and then put on eBay for an asking price of $550) but that didn't stop everyone getting rap moody and offended by it.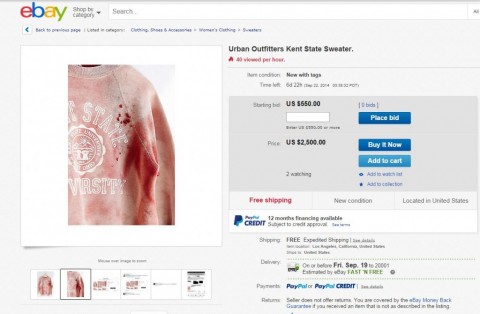 As is so often the case with incidents like this, Urban Outfitters were forced to issue a grovelling apology, which you can read below:
It was never our intention to allude to the tragic events that took place at Kent State in 1970 and we are extremely saddened that this item was perceived as such. The one-of-a-kind item was purchased as part of our sun-faded vintage collection. There is no blood on this shirt nor has this item been altered in any way. 

The red stains are discolouration from the original shade of the shirt and the holes are from natural wear and fray.
So there you have it, it was all a big misunderstanding. I suppose Urban Outfitters don't have as bad a reputation for this kind of stuff as American Apparel (remember this bleeding vagina shirt?) so people might believe that, but even so they probably should have realised that before it went online. Somebody probably got fired because of that.