This is one of those stories you just don't see coming. Unknown T – the UK drill rapper who raps about stabbing people to death – is going to jail for… stabbing someone to death.
Featured Image VIA
The performer, real name Daniel Lena, will appear in court later this week following the death of 20-year-old Steven Narvaez-Jara at an NYE 2018 party in Bartholomew Court near Old Street in London, as reported by the BBC.
19-year-old Unknown T blew up massively with the bass-heavy track Homerton B – currently sitting at 16M+ views on YouTube:
Drake was a big fan of the track, inviting Unknown T to perform it on stage with him at his London show in April this year.
That was the first time many got to know about Unknown T and it looks like we may not get to know him much further as he is almost certainly getting sent down for a long time this week.
Let's take a look at some of the lyrics to the track and see if it offered any clues as to Unknown T's questionable street activities:
Samurai's in batches
Whack, whack, pull up, skrrt, reverse
Bang, the ting goes back in the jacket
Hope the clip or the spin' make him backflip

Unknown T, let me come and spin it
Me, YB had a big bruck-back '015 days
Think I'm kidding?
T jumped out, tryna catch some drillings
Man get fried, finna duck them chickens
Outside of mans college, in front of the innocent
Slide tru back to back, and I'm filling 'em
Round movin' horrid in front of civilians

Word to KO
Seen men with the biggest of shanks have no heart
Cause they ran, and they ran
Cut thru' main road, get robbed man damn
Cut thru' main road, get robbed man damn
Back my J-Lo and back shot man
They're Madeleine gang, cos they vanished and ran
Huh. I think those lyrics are what some might refer to as foreshadowing? Not saying that every rapper out there spitting lyrics about stabbing, shooting and robbing people is genuinely about that life but the ones that are always seem to bait themselves up in their music.
Anyway, some jokers are having fun at Unknown T's expense in the YouTube comment section: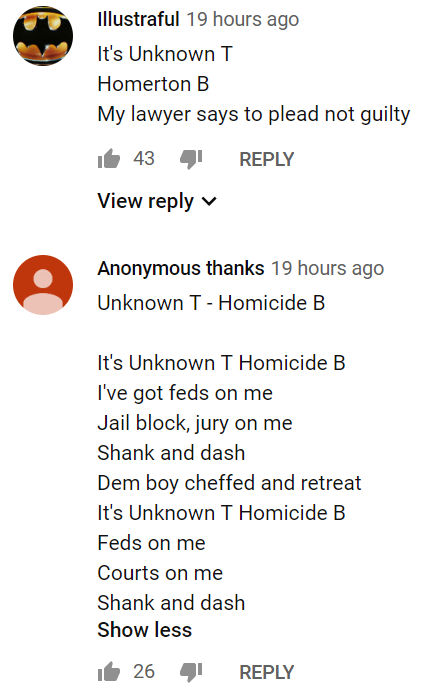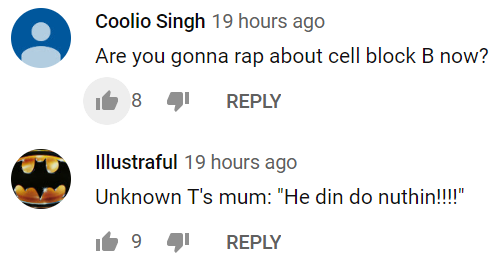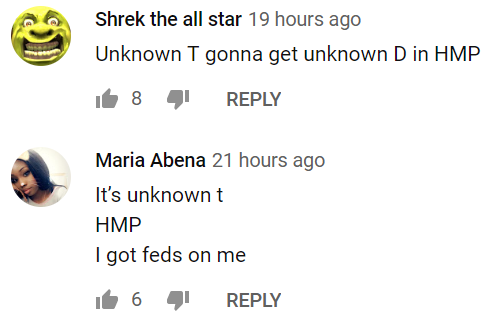 Welp, can't say he doesn't deserve it.
His victim Steven Narvaez-Jara was the first UK stab victim of 2018 – good to know that justice is finally being served.
To read about the 'Murder On My Mind' rapper who ruthlessly murdered his two best friends (and pretended to mourn them for months afterwards), click HERE.