Lisa McElroy is a Harvard graduate currently working as a law professor at Drexel University, which would probably make you think that she was pretty smart. That she might be, but unfortunately she's not smart enough to copy and paste the right link to her students because she accidentally sent them a link to a Pornhub video entitled 'She Loves Her Anal Beads' rather than to an article she thought might help them on their briefs. Oops.
Obviously we haven't linked to that video but it's fairly easy to find if you're so inclined and it is 100% a porn link. Don't ask me how I know that but some of the comments include lines like 'damn she looks like fun' and 'great finish' so if you're interested in anal beads and unfortunately not in McElroy's law class, maybe check it out.
Images VIA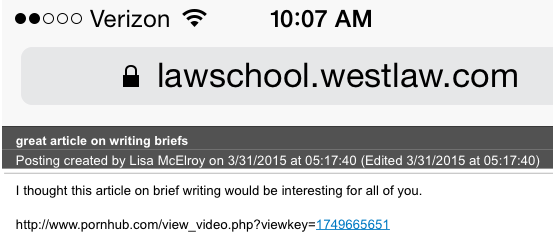 Although everyone probably enjoyed that link a lot more than the usual crap that Lisa probably sends around, the crusty old dean of Drexel obviously wasn't pleased, sending the below email around and suspending Lisa immediately. She'll also almost certainly lose her job after an 'investigation' – which seems a pretty serious reaction to an obvious mistake/error and there's also the chance she may even have been hacked –  but at least she'll be able to say that she jerked off to an anal beads video in her office one time. Or even if she doesn't brag about it everyone will assume she has because of the nature of this story.
Unfortunately she then promptly shared it with her students and (probably) got fired. I guess the old saying of never mixing business with pleasure rings (or beads) true here.
You've got to feel sorry for the woman though because all she did was make a simple mistake that anyone reading this could have made. I mean just look at the BBC yesterday when they promoted the Hardon Collider rather than the Hadron Collider. It's easily done.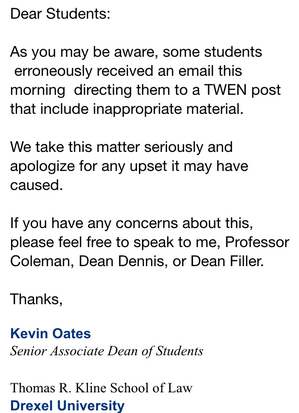 Interestingly, Lisa was also a contestant on Who Wants To Be A Millionaire back in 2010, and you can see her performance below. Amazingly she didn't manage to call a sex line when she had a Phone A Friend, or get distracted by the 50:50 sign looking slightly like anal beads and actually did pretty well in the quiz, only failing on a question I don't think anyone in their right mind would know the answer too, although maybe it was bigger news over in America than here.
Featured Image VIA