Uni students around the world have either seen this academic year go to waste or been moved to remote learning for the rest of the year, thanks to coronavirus and the need for social distancing.
Featured Image VIA
In response, one group of students at New York University Tisch School of the Arts – a 'prestigious' performing arts school in New York – have asked for some of the $58,552 they pay in yearly fees to be refunded, via an online petition that's attracted over 2,000 signatures. Which makes sense considering it's tough to do 'remote learning' at a performing arts school.
Well the Dean of the university, Allyson Green, has now responded to the petition. Did she A) agree to refund the fees, B) refuse to refund the fees, or C) send them a bizarre video of herself dancing to R.E.M.'s 1991 classic 'Losing My Religion'?
A mix of B and C, actually:
The Dean of Tisch sent this as an attachment to the email saying they won't give us our money back. Embarrassing. pic.twitter.com/Q63x5GqsJm

— Breitbart is Racist Filth! (@michale_price) March 23, 2020
At first I couldn't wrap my head around how the Dean of a university could send out such a brutally cringe and tone-deaf response to her students, but if you think about it, it makes perfect sense. NYU Tisch is a performing arts school that charges almost $60,000 a year just to attend. Of course the person running things there believes dancing to an alt rock classic will soften the blow of refusing to refund their extortionate uni fees.
The best part is she invited them all to join in – lol: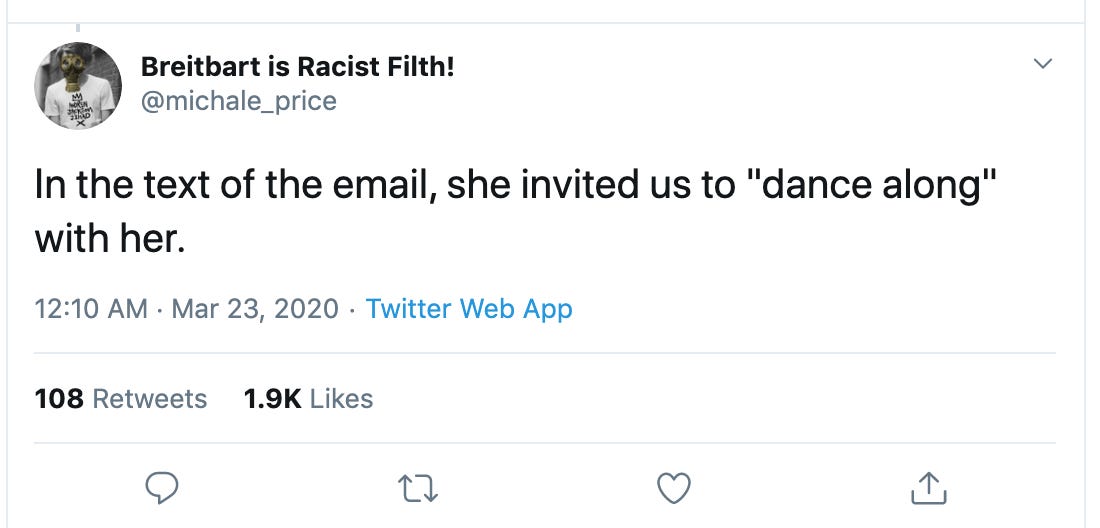 Following the less-than-impressed response from her students and the online world, Dean Allyson Green sent this statement to Artnet News:
The focus of my career as a performer, choreographer, and dance educator, and my most authentic mode of expression, has always been dance. In the video, I shared the song with which I have welcomed first-year students to the Tisch School of the Arts for the past eight years. It is a piece that—as I explained in the accompanying email—speaks to frustration and disappointment, and that helped see me through the loss of 30 friends to AIDS, another difficult period for artists.

What I meant to demonstrate is my certainty that even with the unprecedented hardships of social distancing and remotely-held classes, it is still possible for the Tisch community to make art together, and that all the artists in our school will find ways to remain closely connected even as circumstances challenge us. I regret it if my email left the reasons for my dancing misunderstood—although I will note that I have also received many positive acknowledgments—but its intent was surely neither frivolous or disrespectful.
30 friends who died from AIDS?? Well I bet those mean students and anyone who ridiculed Allyson's video take it all back now. If someone who has lost 30 friends to AIDS tells you that a video dancing to R.E.M. is a legitimate response to asking for your uni fees back, then you better believe it is.
For the Oxford uni professor who mocked a young man with Down's Syndrome for being 'sexist', click HERE.