A Ukrainian student who is desperate for money is now offering to sell her virginity for just £1,500.
Featured Image VIA
The 18-year-old girl named Yulia advertised her services in a local paper in Melitopol, south east Ukraine, writing:
Sooner or later I will have to say goodbye to it. So it is better to do it this way than at some drunken party.

Lovely girl, 18 years old, a student. Will give my virginity to a serious man who offers me financial assistance of 50,000 hryvnia (£1,500).

The meeting will take place in Melitopol only at a place of my choice.
The advertisement, titled 'Virginity for Sale', appears alongside other ads for second hand alarm clocks, antiques and businesses. Doesn't sound like the best place to find a man who you would want to trust with your virginity.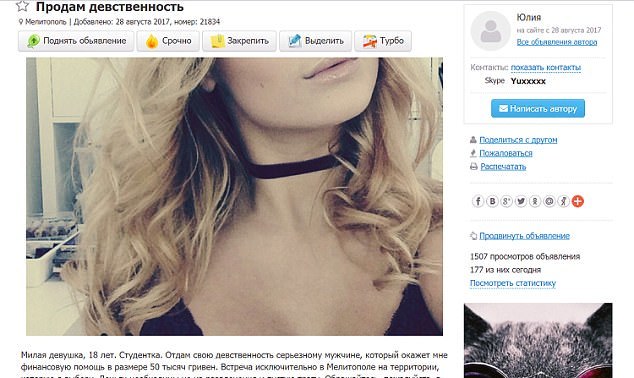 Still, it looks like she's going ahead with the plan, as the advertisement says that there is no competition and she will say yes to the first man. Yep, definitely not a good way to find a trustworthy guy. The only safeguard she's put in place is that her male friend will accompany her to collect the money and see the man.
The only detail she hasn't disclosed is what the money is for, although she did say that it's for something important and not to spend on "entertainment" and "waste".
I'm guessing it's something for university in which case, why doesn't she just do it properly like one of the girls who sells theirs for half a million. £1,500 is not a lot of money and definitely not worth giving up your first time for. I mean just check out this girl – she did the exact same thing but she made £2 million from it.