When it comes to food challenges, it goes without saying that most of them are absolutely ridiculous, but this 9000 calorie mixed grill really does make me question what is the point because ain't' nobody gonna come anywhere near finishing that.
Images VIA
Well actually I tell a lie because one person out all the challengers ever has managed to finish the Killer Mixed Grill from Jack's Bar and Grill in Wolverhampton. The meal costs £50 but they'll give it you for free if you manage to clear your plate – but given that consists of wolfing down 30 chicken wings, 16 pieces of chicken breast, 16 chicken nibblets, 24 fish pakoras and six lamb kebabs, a mountain of chips and two buttery naan breads I think that's fair enough. Who the hell has the belly to pack all that into it at a whopping 9000 calories?
Restaurant owner Jimmy Deol (guess Jack is a stage name?) had the following to say about it: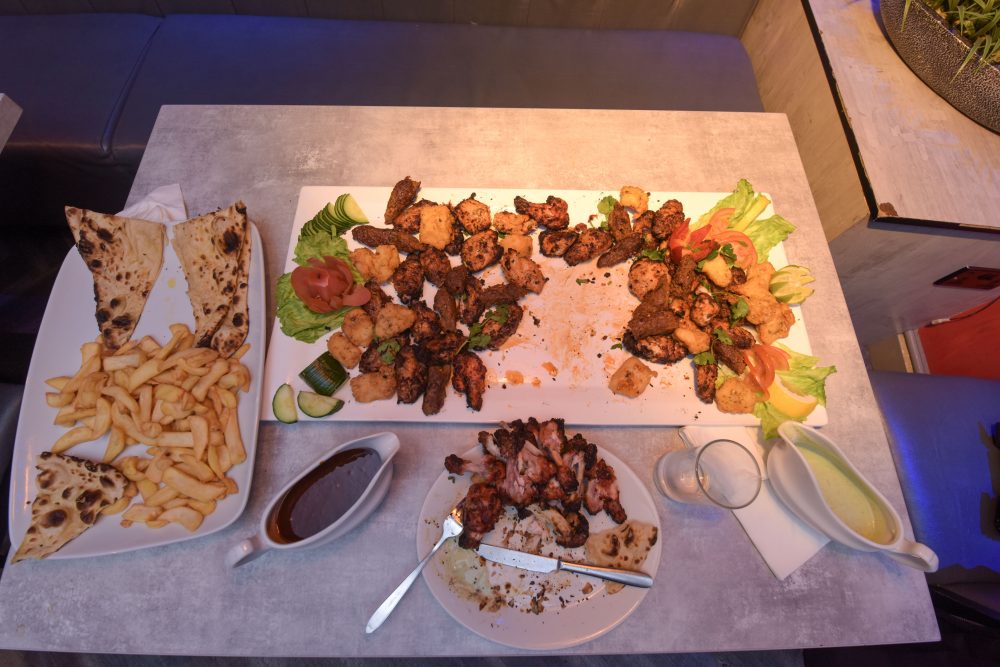 It's got to be the UK's biggest mixed grill. It takes only about 20 minutes to make, with roughly around six skewers of meat going into the clay oven. T

he fish is cooked separately with the pakora batter – it has to be deep fried.

In order for someone to complete the challenge, they have to eat absolutely everything – including the naan bread.

It seems it's too big for one person alone. I've only ever seen one couple be successful and eat the lot, and that's only out of the 50 that have dared to have a go.

We've got into the habit of giving out certificates to our losers, with 'wimp' written across them. We've been sharing the disastrous attempts of people trying to eat it all on our social media, and it's certainly drummed up the interest.
Sounds like they really know what they're doing, even if it is a bit stupid to think that anyone would be able to eat all of that food. I guess one couple did it, but they must be superhuman or something. Still, it's free publicity for Jack's Bar and Grill and that's the name of the game isn't it? Doubt many people are gonna be stepping foot in Wolverhampton just for that place though, no offence.
Actually, there's a Wetherspoons museum in Wolverhampton now. Maybe it's worth a trip?