Fish and chips is a UK favourite, so it's no surprise that there are countless fish and chip shops all over the country and that there's actually an award set up to determine which of the 10,500 establishments is the best out there.
Images VIA
This year, the winner has been announced as 'The Cod's Scallops' in Wollaton, Nottingham and to be fair it does sound like it's slightly above your average fish and chip shop. There's a selection of over twenty different kinds of fish and other various seafood – including cod, haddock, hake, lobster, crab and gurnard – and you can also choose to have it battered or baked as every fish is cooked to order.
The shop was opened back in 2011 by husband and wife team John and Helen Molnar and they couldn't be happier to be crowned the UK's number one: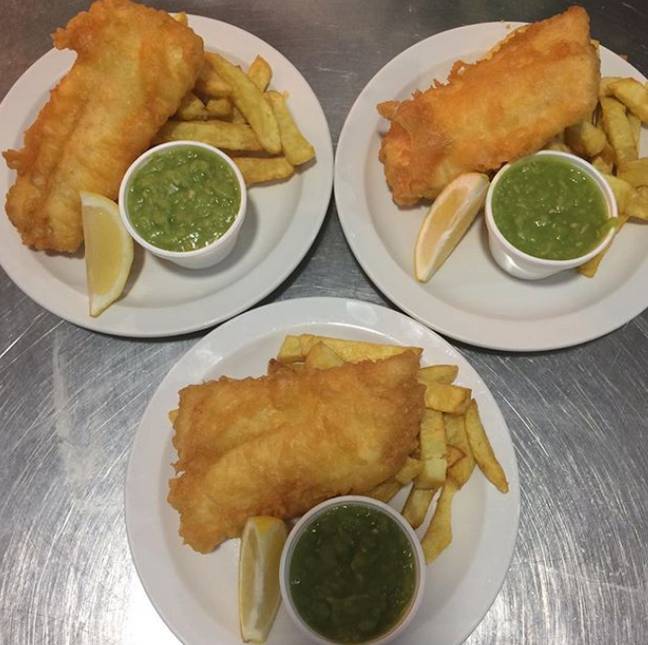 We're absolutely thrilled to be crowned the UK's best fish and chip shop. It's an honour to take home such a prestigious title, especially being up against the country's top establishments. 

Our experience in the National Fish and Chip awards has been an incredible journey and we've loved every minute of it. It's a brilliant achievement for the team at The Cod's Scallops and we are so proud of everyone for their efforts.
Yeah I'm not surprised to be honest – being voted number one in your field is big deal whatever field that might be. In case you don't live anywhere near Nottingham, Shap Chippy in Penrith came in second and Chester's Fish And Chips in Western Grove came in third. Where the hell are either of those places?
For more fish and chips, check out this 100% vegan fish and chip shop. Lame.