Supermarkets in the UK throw out an unimaginable amount of food past its sell by date every single day (the Evening Standard estimating it's £230million) and ridiculously this food hasn't been allowed to be redistributed to those in need until now with the opening of the first food waste supermarket in Leeds.
Images VIA
The 'Real Junk Food Project' has opened what it's terming 'the warehouse' on the Grangefield Estate in Leeds and is currently receiving between two and ten tonnes of food there every day. The food is donated from several major supermarkets, cafes, restaurants and food banks. Customers can 'pay what they feel' for the food by donating their time, money or skills to the project.
Project founder Adam Smith explains how he devised the idea:
The idea of using food which was being thrown away began three years ago when a cafe, offering meals produced from waste food, opened in Armley – there are now more than 120 similar cafes across the world.

Usually we donate leftover food to local schools but over the summer we ended up with all this surplus and we wondered how we would get rid of it.

We moved it to one part of the warehouse, put a notice up on social media asking people to come and get it, and it just went mad.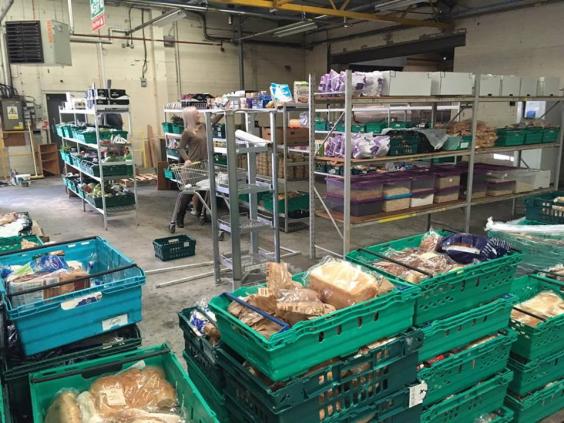 We ask that you pay what you feel in time, money and skills. We do have people coming with the intention of paying and if it carries on like it does, it will pay for the cost of the warehouse.

We need volunteers. Driving, weighing, sorting, stacking shelves, cleaning and much more. Lots of opportunities for people to get involved and give back.

I'm hoping to set up other warehouses in other cities in the UK. We're about to start in Sheffield and Bradford. Every city will now obtain central storage and run a 'people's supermarket' as well as Fuel for School.

Fuel for School is the work of a group of food activists from The Real Junk Food Project who deliver surplus bread, fruit, vegetables and dairy products from supermarkets to schools to feed hungry schoolchildren. The food would normally go to landfill but now roughly 12,000 children are fed from it.
Isn't that just fucking awesome? Once in a while there are actually some people doing some good in the world instead of all the shit you normally hear about. Long may Adam and The Real Junk Food Project continue to grow and develop.
It's crazy that this hasn't happened sooner and so much food has gone to waste when there are so many hungry people, even just here in the UK. Astonishing.
For more people doing awesome stuff, check out France, where it's actually now illegal for supermarkets to throw out waste food. So progressive over there.