A young drug dealer from Co Offaly, Ireland was stabbed 16 times and then left laying in his house while the attackers then torched the place and fled, leaving him and dozens of his dogs helpless and unable to escape.
According to reports 24 year old Ciaran Murphy owed 1,000 euros to someone who thought he deserved to die for not paying up, after showing up to his house after midnight asking for the cash.
Ciaran was almost burned alive and is now in hospital fighting for his life. Luckily fans returning from the All-Ireland hurling final at Croke Park spotted the blaze from his house and he was rescued, albeit with 90% burns to his body.
Saddest of all, eleven cross-breed dogs and pups were all killed in the fire. Some dogs were also stolen.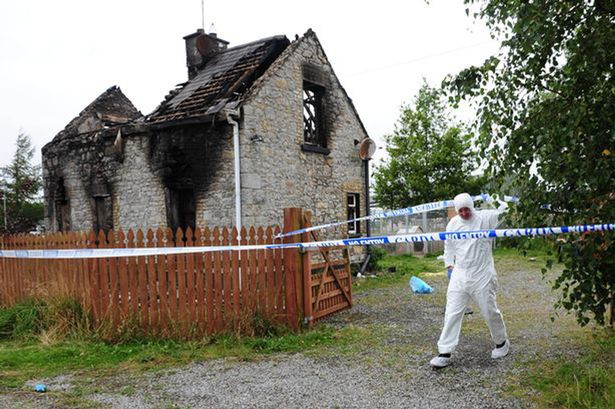 Images VIA
Murphy was well known in the area and it's thought he was renting the property to breed pit bull terriers whilst also shotting on the side.
Inspector Kieran Keyes said:
We were alerted to a house fire and on arrival found a 24-year old male who had suffered extensive burn injuries and had also suffered stab wounds to his body. The man has since undergone surgery at St James's Hospital in Dublin and his injuries are described as critical.

There were a number of dogs in the house and unfortunately a number of them have died.

I can't say how many but it was into double figures. He was into dogs and bred them.
So I reckon the moral of the story is, if you must put yourself in debt with someone, make sure it's not someone who's going to stab you 16 times and burn your house down when you're late on the payments. Seems a bit of an excessive thing to do over 1,000 euros but clearly that's how some people like to do things. The same kind of people who think nothing of leaving a house full of dogs to burn to death.
Here's hoping Murphy has the balls to shop these pricks. We're always down to see some dodgy motherfuckers get taught a lesson.