England's 6-0 thrashing of Bulgaria the other night was marred by racist chanting including monkey noises and Nazi salutes by a section of Bulgarian fans who barely let up despite the game being stopped twice, and Bulgaria's own captain Ivan Popov asking them to chill the fuck out.
Featured Image VIA
There were even announcements over the speakers warning fans the game would be called off unless the abuse stopped.
Well UEFA have finally pulled their finger out and done something about it this time, though you might argue it's still not enough.
As per Metro, Bulgaria have been hit with four charges from UEFA after the match – racist behaviour, throwing objects, disruption of the national anthem and replays on a giant screen.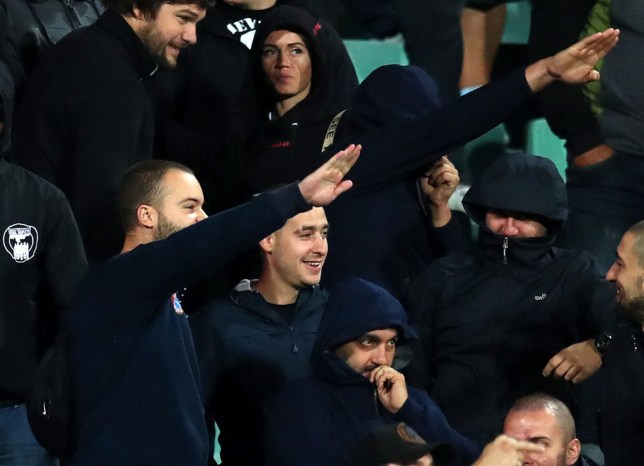 The English Football Association have also been charged with two offences however – disruption of the national anthem and insufficient number of travelling stewards.
The UEFA Control, Ethics and Disciplinary Body will now handle the case against both sides, but a date for this has yet to be announced.
FA chairman Greg Clarke did some UEFA booty-licking after the game:
I would like to see a very stringent review by UEFA because I know they take racism very, very seriously. And if we say we've got zero tolerance for racism, to me one person making monkey chanting noises is the same as 100. Zero tolerance is zero tolerance and I think at UEFA we need to really address that.
Arsenal legend Ian Wright set it straight:
Do you know what I'd like to say, listening to Greg Clarke's interview, listening to him pander up to UEFA.

He's the person that's supposed to be going into bat in respect of what's happening.

Saying that 'I know that there's people at UEFA who have really strong feelings' – when have they shown any strong feelings about wanting to stamp out racism?

That doesn't make me very confident in Greg Clarke and what he's going to try and do now. Not at all, really disappointed at that.
Here was some of the reaction from England players online:
Mmmmh … Not sure about this one chief https://t.co/Jyjr6vFtA8

— Raheem Sterling (@sterling7) October 14, 2019
Feeling sorry for Bulgaria to be represented by such idiots in their stadium. Anyway.. 6-0 and we go back home, at least we did our job. Safe travel to our fans, u guys did well 🤟🏾❤️

— Raheem Sterling (@sterling7) October 14, 2019
Not an easy situation to play in and not one which should be happening in 2019. Proud we rose above it to take three points but this needs stamping out. pic.twitter.com/jTnUGOa8z2

— Marcus Rashford (@MarcusRashford) October 14, 2019
Absolutely disgusted to have witnessed the behaviour of some of the crowd tonight but so proud of every single one of our players and staff. We stand together. Thanks to all of our travelling fans for your support 🦁🦁🦁 pic.twitter.com/e8pchzO6tT

— Jordan Henderson (@JHenderson) October 14, 2019
The best way to bounce back. Proud of the team. There's no place in football for that – disgraceful behaviour. Something must be done. 🏴󠁧󠁢󠁥󠁮󠁧󠁿 @England

— Harry Maguire (@HarryMaguire93) October 14, 2019
Good win under difficult circumstances. There is absolutely no place for scenes like that. Proud of the team tonight 👊🏻 @England pic.twitter.com/kOOBeW5hSK

— Jordan Pickford (@JPickford1) October 14, 2019
Mad that there's still football fans making money noises and doing Nazi salutes to wind up black players in 2019. I mean I know English football has its fair share of racist idiots but it really is nothing compared to some of these other places around Europe that have such a long way to go to catch up with the rest of the civilised world.
Would be good if next time the teams just agreed to stop the game and walk off the pitch, or maybe go even further and ban teams like Bulgaria from international competitions until they sort their fans out. I know that's not fair on the players and the decent fans they do have, but something has to be done after all.
For the couple that had to flee their home following racist abuse and death threats after they starred in an advert for Lidl, click HERE. You'd think we were still living in the 50s.