Kansas City Chiefs' safety Tyrann Mathieu has claimed Tom Brady called him "something I won't repeat" at Super Bowl LV.
Featured Image VIA
Brady won a record seventh Super Bowl ring after his Tampa Bay Buccaneers crushed the Chiefs 31-9, and Brady had a lot of joy dominating Mathieu throughout.
Tom Brady told Tyrann Mathieu he was coming for him, went after him, then reminded him.

GOAT. pic.twitter.com/CqLdCMkpMV

— Joe Pompliano (@JoePompliano) February 8, 2021
According to his opponent though, Tom Brady may have taken things a bit too far: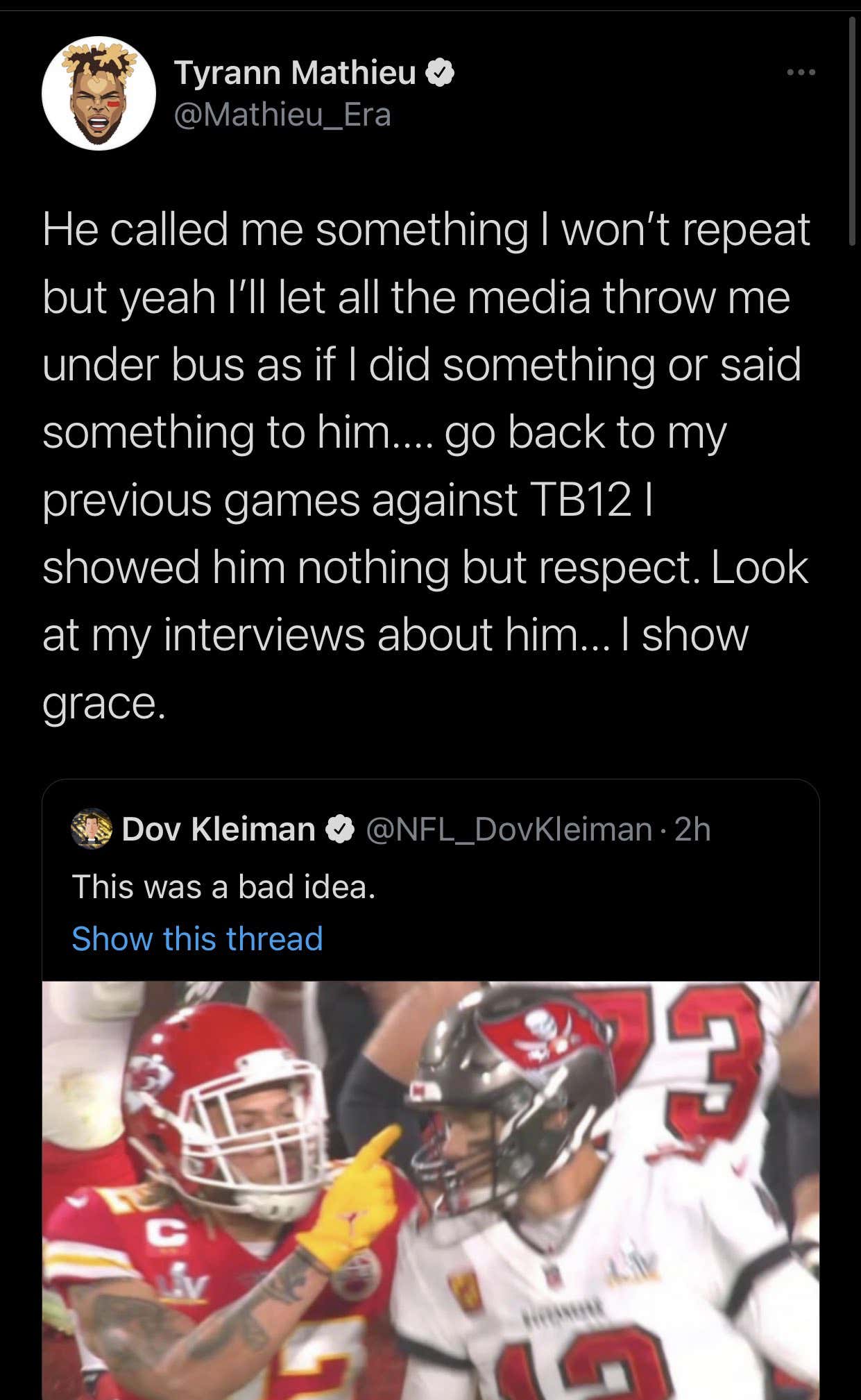 Obviously the first thing that pops to mind with how vague and mysterious he's being about the whole thing is that maybe Tom Brady said something racist, but surely if that was the case Mathieu would not let him get away with it? You'd think a high profile athlete like Tom Brady dropping an N bomb or similar at an opponent would be something that's guaranteed to come out.
Whatever he did say though, it must have been very mean, because TMZ is reporting that Tom Brady texted Matthieu after the game to apologise for whatever the exchange was.
I'm thinking maybe he called him a bitch or said something super emasculating and so Mathieu is leaving it up to interpretation to make him sweat a little bit. Can't have been fun being on the receiving end of that ass-whooping, let alone having to deal with the GOAT bantering you throughout. Anyway Mathieu has since deleted the Tweet so who knows what the hell is going on. Probably should have just stayed off the internet in the first place after taking an L that big.
For the rugby player who received an 8-match ban for brutalising his opponent's testicles during a match, click HERE.