You might remember a story from a couple of weeks ago about two teenagers that were living together off Universal Credit with a baby on the way that were so poor that they could only afford to eat dry toast every day.
Images VIA
Well it turns out that this story may have been completely fabricated. After the story of 18 year old four week pregnant Lizzie Mason and her transgender boyfriend Jaedyn Overbury went viral, the pair were inundated with gifts from strangers that ensured that their cupboards were stocked to the rafters.
However, it's now emerged thanks to a tip given to Metro.co.uk, that the pair may have been fabricating the pregnancy to obtain these handouts. Lizzie apparently uploaded the following post to a sperm donor Facebook group shortly after the post went viral: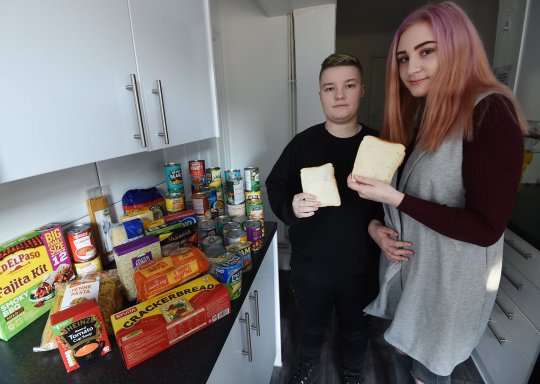 Hmmmm that looks pretty suspicious doesn't it, especially as she later deleted it. Lizzie initially denied that she made the post, but later backtracked saying that it was intended for future siblings. Jaedyn just said that there had been some confusion over her pregnancy status but declined to offer any more explanation. Reading between the lines, you would assume that the pair just made it all up, but I guess we'll see if any more information comes out of the pair.
They originally claimed that they were struggling because Jaedyn had been signed off work from his job stacking shelves at Asda because of general anxiety order and the £230 quickly vanished on rent, cheap food, phone top ups and'public transport for hospital appointments. Whilst I don't doubt that it's difficult to live on £under £60 a week, I'm not sure if the solution is to lie about a pregnancy and then trying to obtain sperm off a random Facebook group to follow through with it.
If anything though this should highlight more of the major problems in this country right now, rather than just judging these young kids for being so broke and desperate that they made up a story to get some handouts. Sure everyone will be quick to condemn them, meaning that they'll probably never get a job anywhere because of a quick Google of their name. Fantastic.
For more of the same, check out this guy using the card details of his girlfriend to take another girl to Paris. Classic.