A Turkish journalist has just been handed 10 months in prison for accidentally adding a 'K' at the end of a Tweet he put out, which completely changed the meaning of what he was trying to say. Onder Aytac meant to refer to Prime Minister Recep Tayyip Erdogan as "my chief", but the extra 'K' meant he accidentally ended up telling him to "fuck off". Worst typo of all time?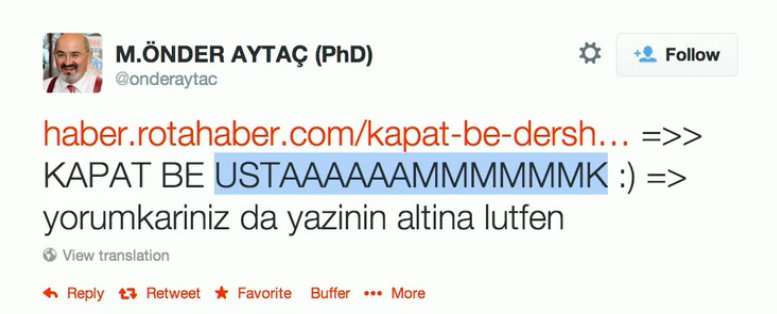 This comes weeks after Erdogan threatened to completely do away with social media altogether in Turkey, particularly Twitter which he despises because it provides an easy public platform for people to criticise him.
It isn't the first time Erdogan has thrown Aytac in prison. In 2012 he'd jailed him over allegations that he was involved in the leak of a top secret meeting between officials over Syria. If I was Aytac I would've left Turkey a long time ago; you don't want to be hanging out somewhere where the Prime Minister has personally got it in for you. Day one stuff really.
Imagine what would happen if you accidentally poked this dude's wife or friended one of his enemies on Facebook? Straight up life imprisonment.
☛  More Turkey: Turkish Guy Wears Cage On His Face To Stop Smoking