Turkish football WAG Yagmur Asik has been accused of plotting to have her husband murdered by a $1.2 million hitman, according to the NY Post.
Featured Image VIA
Yagmur, 27, married ex-Turkey international Emre Asik (defender for Galatasaray, Fenerbahce and Besiktas) in 2012 with the couple since having three kids together. But after Yagmur was busted having an affair, Emre, 46, began the process of filing for divorce. Yagmur's response to this? Oh you know, totally rational – plotting to have her husband and the father of her children murdered.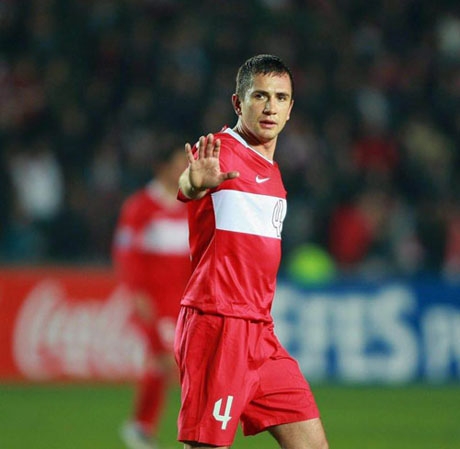 Yagmur turned to lover Erdi Sungur – the guy she was having an affair with – to carry out the killing first. But apparently he wasn't quite up to it, as he later confessed:
Once she brought me a piece of meat. She wanted me to shoot the meat. I did attempt to shoot, but I squinted. 'You can't do it,' she yelled angrily.
Hoping to make things up to Yagmur, Erdi contacted a hitman on her behalf. At that point, Yagmur provided the killer with a weapon (didn't he have his own?) and even tried to assist in finding ways to dispose of the body.
Before the murder could take place though, the assassin had a change of heart and revealed everything to Emre Asik. Whoops! Yagmur and Sungur now find themselves in custody awaiting trial for attempted murder.
So to recap – Yagmur Asik was cheating on her husband, got caught, and then tried to kill him. Seems like a nice girl, right? I mean OK some might say that hiring a hitman to kill your husband is a bit of an extreme overreaction to being asked for a divorce, and there's probably some truth to that to be fair.
Unless you remember the whole 'to death to us part' section of your marriage vows, which maybe Yagmur took a tad bit too seriously? So much so that she initially tried getting her lover to murder Emre first, before realising he wasn't up to it and opting for a professional instead. Except this so-called professional also bottled it, and not only did he bottle it he also went babbling to the murder target and now this WAG and her lover are facing serious jail time. Absolute disaster! Should've known this hitman was an amateur the moment she provided him with a weapon and helped him come up with ideas to dispose of the body – pretty sure a trained assassin could figure that all out for himself and not need any tips from some random idiot.
An aesthetically pleasing idiot, nonetheless!
Will Yagmur ever be able to trust another man again? First her husband tries to divorce her, then her lover throws her under the bus, and then the hitman she paid $1.2 million to kill her husband went and grassed her up. Tough times indeed.
For the dumbass woman arrested after trying to hire a hitman on hireahitman.com, click HERE.