Even though it's kind of surprising that Blink 182 drummer Travis Barker and Kourtney Kardashian have decided to fall in love and start a relationship, I'm sure that most of the general public would be happy for them if it didn't seem like every time we heard from them they were engrossed in absolutely horrendous public displays of affection, but that seems like how they're playing it for now.
Featured Image VIA 
The latest one of these comes courtesy of Barker himself, who decided to share the fact that he had commissioned a custom made candle that smelled like Kourtney's orgasm from Gwyneth Paltrow's Goop company on his Instagram story. That's one hell of a sentence and one I hope that I never come close to ever having to write again.
Anyway, here's what it looked like: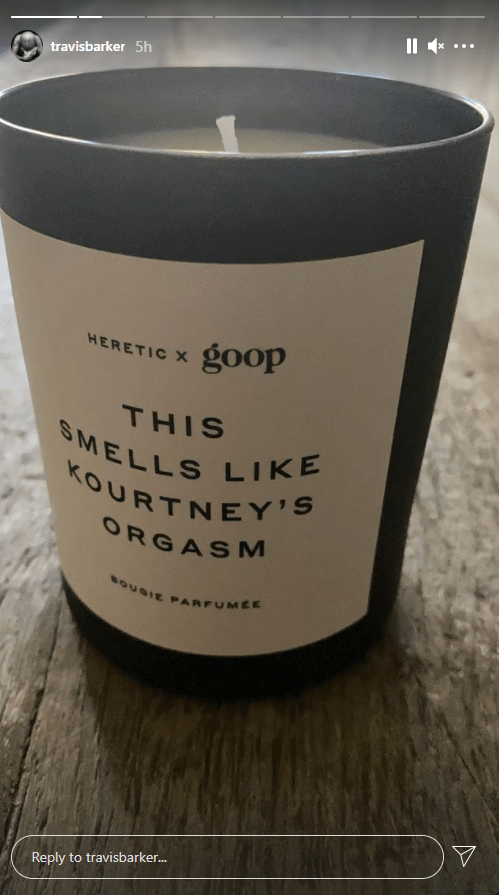 Needless to say, Kourtney was ecstatic about her husband sharing this somewhat intimate detail of their relationship and immediately posted it on her own Instagram story. Nothing like true love for the whole world to see hey?
In case you're wondering what the candle smells like, then it describes itself as containing notes of 'tart grapefruit, neroli and ripe cassis berries blended with gunpowder tea and Turkish rose' and promises to be 'sexy, surprising, and wildly addictive'. Yeah, that description didn't help me at all either, but it seems like Travis and Kourtney like it so I'll definitely be dropping $75 on one very, very soon. How could I not?
For more of the same, check out Travis saying that he dreams about having sex with Kourtney all day long. Come on now dude.