We've all watched our team getting hammered, going down 3-1 in the 87th minute, and a lot of us would have left at that point and got out early so you can beat the traffic, and more importantly, not have to put up with your opponents being happy. But if you were a Tranmere Rovers fan that did that yesterday, you'd be fucking gutted.
Feature Image VIA
Tranmere Rovers were playing away against Barrow, and in the 87th minute conceded a goal that put them 3-1 down. Not good, as that's pretty much the nail in the coffin in most football matches. Heads drop. Fans leave. All hope is lost. But then Lois Maynard scored in the 90th minute to give the travelling fans a faint glimmer of hope at 3-2.
Then, breaking all football logic, Tranmere scored twice more, to win the game 3-4.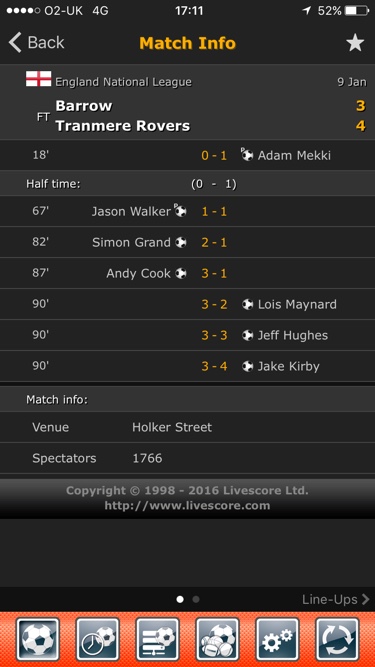 Ridiculous. Imagine being one of the fans that left, bitter and disappointed, with just two minutes to go. You'd be more gutted than the Barrow fans who celebrated their assumed winner! Unfortunately, there don't actually seem to be any highlights at the moment but hopefully some will pop up in the next couple of days.
I'm an Everton fan, and still have very fond memories of going mental when we were 3-1 down to Man United in the 90th minute and managed to pull it back to 3-3 in added time, so to go one better and win must feel fucking amazing. Fair play to them.
So long as they don't get a tattoo of the occasion.