One problem that I'm sure all of us would be interested in having is a penis that is too big, and it turns out that it might even be able to be used as an excuse for when you've been accused of rape.
Featured Image VIA 
At least that's what 26-year-old Daniel Green is trying to pull in his current rape trial. Green has been accused of raping a woman in her early 20s after an office party at his firm StratX near Monument. Here are his excuses when he gave evidence at the Old Bailey today:
I drank Prosecco sparkling wine and a can of Kronenbourg beer from the office fridge when I arrived at the after work drinks in the office.

The music was pretty good and I jumped on the desk and started dancing. Everyone was dancing. Very enjoyable.

Someone was sitting on the second row of desks racking up cocaine. There were seven or eight lines so he was sorting out a line for everyone at that time.

However, the mood soured when her friend pretended that her stash of cocaine had been stolen. I emptied my pockets to prove it wasn't me, but most of the StratX men went home then.

It was just me, her and a couple of others. I got into a conversation with her about her work.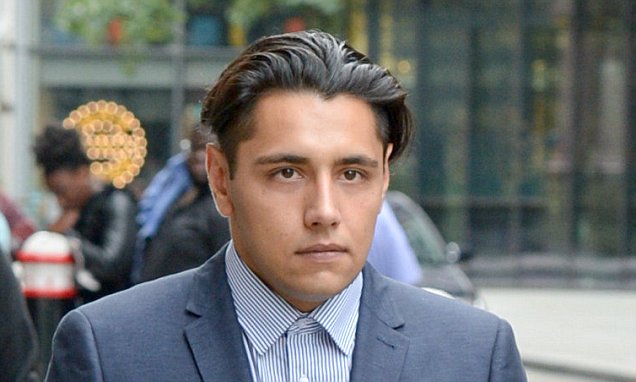 When you are talking to someone you notice glances, you have got eye contact. You don't say anything. You might smile. I leaned in for a kiss and we had a snog.

Whilst kissing I stripped to just my socks while unclipping her bra with one hand and helping her out of her black leggings.

I tried to have sex with her in a 'spooning' position, but it was awkward so we turned around to face each other.

I looked up and I saw a tear on her face. So I sat back. I said, 'Fuck you are crying.' She replied, 'Can you leave please, just go.'

I thought she was crying because my penis was hurting her. I always have difficulty when it comes to having sex with girls.

I find my penis is hard to penetrate females. It's ten inches long and around four inches in girth.

It all happened in an instant.
Hmmm, even if this is the case, it sounds like he's a complete and utter dickhead jumping on desks and doing blow at his office and then trying to shag a girl he just met on his desk.
It sounds like this isn't the case if the unknown victim's evidence is anything to go by though – she's claiming that Green mounted her after she fell asleep under a desk because she wanted to get the first train home rather than a taxi and repeatedly said no during the attack. Green is denying that completely.
The victim also wept as she gave her evidence and phoned a friend immediately after it happened, who reported it to the police. None of this looks particularly good for Green, but we'll let the jury decide that. It's probably a bit more complicated than this weirdo who admitted he regularly raped his girlfriend whilst she was asleep. WTF?