Statues are being toppled all around America as the Black Lives Matter protests rage on across the nation, and I guess it was only a matter of time before there was an accidental casualty given the crowds that have been showing up to celebrate.
Featured Image VIA
Over in Portsmouth, Virginia last night, protesters tore down the statue of Confederate President Jefferson Davis, and a man brainlessly standing directly below the statue got obliterated under its weight:
Graphic video: Watch the moment a toppled Confederate soldier statue falls on a rioter, injuring him severely. This happened tonight in Portsmouth, Va. All the statues around the monument were beheaded before this accident. #BlackLivesMatter pic.twitter.com/yv5j45Fd7j

— Andy Ngô (@MrAndyNgo) June 11, 2020
Ouch! That did not look good at all.
The president of Black Lives Matter 757 told WAVY News:
We could see that his skull was actually showing, he was convulsing on the ground – and he lost a great amount of blood. We ask everybody to pray for that man right now.
No word on the man's condition currently, but amazingly Portsmouth Police Department were able to disperse the crowd shortly after so they could investigate the incident. Although I'm not sure what there is to investigate really as it's pretty clear what happened.
Just an occupational hazard of destroying statues I suppose, four of which were beheaded and pulled down over the course of the day at the Portsmouth Confederate Monument as police watched.
A statue of Christoper Columbus was also pulled down. Get a load of these protesters letting the toppled statue have it with some WWE-style stomps!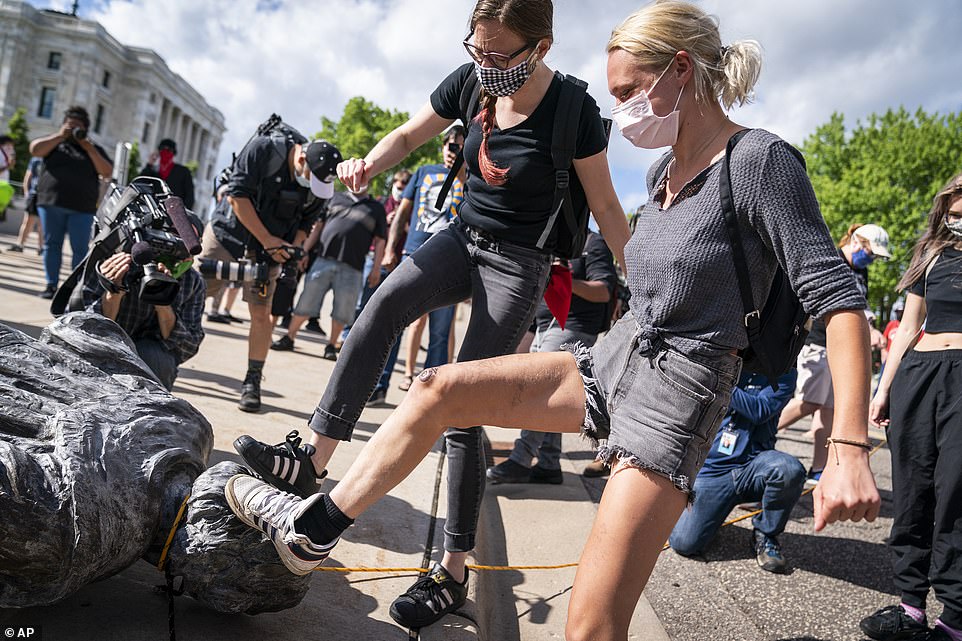 Opinion is split on whether mobs should be destroying these statues, with even some who agree they should be removed unhappy with the method in which it's happening. I guess these rioters just got tired of waiting for the relevant authorities to do it for them. Pro tip if you're attending one of these things – get the hell out of the way when the statue comes falling.
For Banksy's genius suggestion as to what to replace the Edward Colston statue in Bristol with, click HERE. Make it happen!