When you're a DJ, there's always going to be irritating drunk people trying to request something completely out of your genre range, or even worse – ask for something "they can dance to."
Featured Image VIA 
There are some pretty hefty cues not to speak to a DJ, namely the fact that they've got headphones on, they're trying to mix and they're not there to act as your personal jukebox. Regardless, when you cram a load of annoying drunk people in front of DJ stand, it always happens. Which is perhaps why this DJ decided to put together a list of top ten things not to say to a DJ. It doesn't matter how drunk you are – there's no excuse for trying any of these: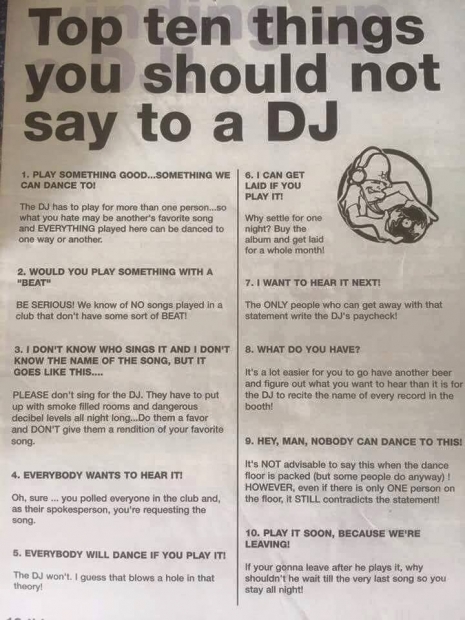 PLAY SOMETHING GOOD…SOMETHING WE CAN DANCE TO !
The DJ has to play for more than one person… so what you hate may be another's favorite song and EVERYTHING played here can be danced to one way or another.
WOULD YOU PLAY SOMETHING WITH A "BEAT"!
BE SERIOUS! We know of NO songs played in a club that don't have some sort of BEAT!
I DON'T KNOW WHO SINGS IT AND I DON'T KNOW THE NAME OF THE SONG, BUT IT GOES LIKE THIS….
PLEASE don't sing for the DJ. They have to put up with smoke filled rooms and dangerous decibel levels all night long… do them a favour and DON'T give them a rendition of your favorite song.
EVERYBODY WANTS TO HEAR IT!
Oh, sure… you polled everyone in the club and, as their spokesperson, you're requesting the song.
EVERYBODY WILL DANCE IF YOU PLAY IT!
The DJ won't. I guess that blows a hole in that theory!
I CAN GET LAID IF YOU PLAY IT!
Why settle for one night? Buy the album and get laid for a whole month!
I WANT TO HEAR IT NEXT!
The ONLY people who can get away with that statement write the DJ's paycheck!
WHAT DO YOU HAVE?
It's a lot easier for you to go have another beer and figure out what you want to hear than it is for the DJ to recite the name of every record in the booth!
HEY, MAN, NOBODY CAN DANCE TO THIS!
It's NOT advisable to say this when the dance floor is packed (but some people do anyway)! HOWEVER, even if there is only ONE person on the floor, it STILL contradicts the statement!
PLAY IT SOON, BECAUSE WE'RE LEAVING!
If you're gonna leave after he plays it, why shouldn't he wait till the very last song so you stay all night! If you wanna get your request played faster, try writing it on the back of a $20 bill and handing it to the DJ.
You have been told. Are you guilty of shouting any of these questions/statements at a DJ? Don't worry, most of us are. Just don't make the same mistake again.
For more on music, check out this guy's outrageous requests for female DJs that show everything that's wrong with the music industry. Disgusting.