Jeremy Clarkson, Richard Hammond and Richard May were forced to flee Argentina three days early after they were attacked by violent gangs following a dispute over the number plates on the cars they were travelling in. The crew were given an ultimatum by the gang – who have previously thrown stones at the cars they were traveling in – to leave of 'face the consequences'. Kind of like what happened to Justin Bieber there earlier this year, although his behaviour probably did warrant getting kicked out of the country.
The gang were upset by the fact that Clarkson was driving a Porsche with the number plate H982 FKL which it was suggested was a deliberate attempt by the Top Gear team to provoke the locals over the Falklands conflict. They also weren't happy that the number plate of Hammond's car had 282 in it which was close tot he 285 English people that were killed during the conflict and that the 646 on May's plate was close to the 649 Argentinians who died in it. All of that does seem like it's pushing it slightly, but I guess people are still really touchy about this kind of shit over there.
The Top Gear team had been driving down the famous 1350 mile long Patagonian Highway to the southern most city in the world Ushuaia when they ran into trouble around the borders of the city. An escort was arranged to lead them out of the country but they encountered more violence on this journey and were eventually forced to abandon their cars on the side of the road and leave via another method of transport.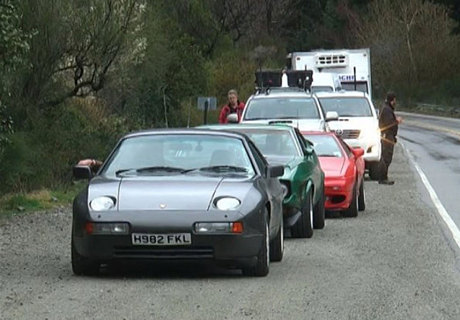 A local member of the war veteran's association in the area Osvaldo Hilliar explained their viewpoint:
Our position from the outset was to demand the withdrawal of the TV team from our province, which includes the Malvinas, by 8pm on Thursday, with the warning we'd organise a demonstration to reject their provocation if not.

What they did was an offence that through no coincidence was committed in the capital of the Malvinas, without any regard to local feeling about this cause.

They said they didn't want to upset anyone but we know the British have lied for the last 200 years. We told them we couldn't guarantee their security if they didn't leave.
To be honest even though we all know Clarkson can be prone to gaffes like this all the time, this really does look like the Argentinians have made a mountain over a molehill and pushed diplomatic relations between our two countries back about another 50 years. Oh well at least it's kind of jokes.