2020 will be remembered for many things, but I'm surprised to hear that it's the year that dogging really took off in the UK, although given the restrictions that were in place it really does make a lot of sense. Just not something I would have thought of on my own.
Featured Image VIA 
Anyway, any ideas where you think dogging would be most prevalent in the UK? I doubt many of us have ever considered that question either, but thankfully dating site DatingRoo decided to commission a study to try and determine it back in October.
They used a variety of criteria to come up with a winner, including number of Google searches for dogging spots per month and number of dogging spots within a city – eventually coming to conclusion that Manchester was the number one dogging city in the country. Here's a summary of the results in a nice little graphic that they made: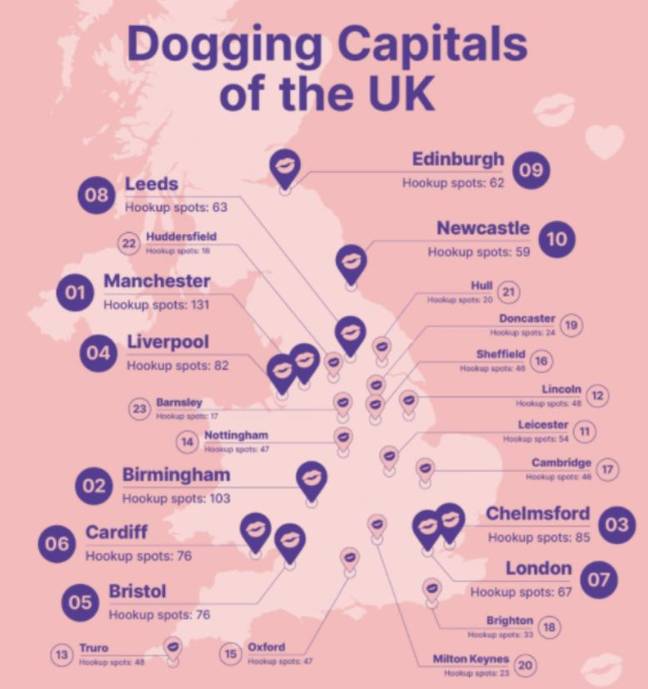 Yeah looks like it's really blowing away the competition there in terms of the number of hook up spots in the city doesn't it? Not even close.
Kinda surprising that there are so few in London, but I suppose it's a more densely populated area so there aren't as many opportunities for places to get deep down and dirty. DatingRoo suggests that there was a rise in dogging over the last year because there was literally nothing else to do in lockdowns and the whole status of the country made it even more dangerous and sexy. Sounds about right.
For more of the same, check out the six essential rules of dogging. Don't want to forget those.