It's fair to say that Motley Crue drummer Tommy Lee's dick has had its fair share of controversy over the years but the legendary rocker's penis is looking to trump that right now after he decided to post a full on picture of it on Instagram that for some reason has yet to be taken down.
Featured Image VIA
I think it's well documented that Instagram doesn't let women post pictures of their nipples on the social media platform – and don't even get me started on nudity in trans people or the LGBTQ+ scene – so it seems amazing that they're allowing a full on dick pic to stay up on the site hours after it was posted and has started trending on Twitter etc. I guess most of you clicked on this because you wanted to see his dick, but I don't think I'm gonna post it here because of Google messing up my page ranking etc. Apologies.
If you want to find it though, just head on over to his Instagram because it's probably still up. Or just search through Twitter because a lot of people have posted it there.
Here's a teaser though for all your thirsty guys and gals out there: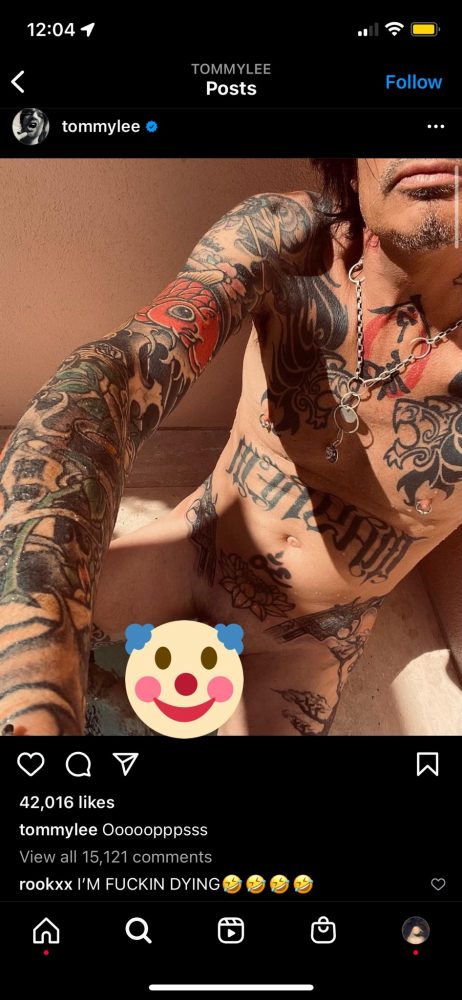 Wow. That's very strange behaviour isn't it? And also kind of crazy that nobody at Instagram has done anything about it.
Most people weren't that happy about it and took to Twitter to vent their frustrations about the fact Tommy Lee could get away with doing something like this. And also the fact that he was just a major idiot for doing it in the first place:
okay i'm late to it but how tf has tommy lee still got his whole dick out on ig when you can't even post ur fucking cleavage on ig without ur account almost being banned

— Jess (@Velvetworms_) August 11, 2022
WHY DID TOMMY LEE JUST POST HIS LITERAL DICK AND BALLS ON INSTAGRAM

— bri🫧SEEING MCR IN 15 DAYS (@XxRocketQueenX) August 11, 2022
tbh tommy lee posting his dick on instagram and twitter is not that surprising coming from him what is surprising is the fact he waited that long to do it

— lisa (@sseaofmadness) August 11, 2022
I posted a pic of lady gaga on insta once and they took it down for nudity but Tommy Lee has his whole dick out ?

— mr worldwide (nancy) (@nancyctattoos) August 11, 2022
They've all kinda got a point haven't they as I don't think anyone really WANTS to see that, even though you all clicked on this article. It's more about the outrageousness of it than actually checking out his dick isn't it?
Something seriously wrong with Instagram keeping it up so long though. Hopefully there's a logical explanation or at least an apology for that. And I hope Tommy Lee's OK because this is abnormal behaviour even for him. Thoughts and prayers.
For more of the same, check out Tommy Lee talking about drinking nine bottles of vodka a day before he went to rehab. Hot damn that's a lot.