It looks as if Tom Hardy is picking up where Robert Downie Jr and Justin Timberlake left off, as he swaps his super villain mask for a toupée, rosey sunglasses and a mound of coke, in the upcoming Elton John biopic, Rocketman.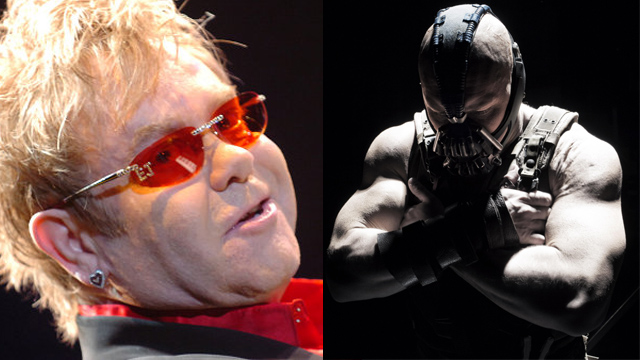 The picture begins shooting at the end of 2014 and is hotly anticipated to be a smash hit as it tells the incredible story of Sir Elton John's life, and is penned by the acclaimed screenwriter of War Horse, Lee Hall, and directed by Michael Gracey, the man behind Hugh Jackman's upcoming The Greatest Showman On Earth.
I know what you're thinking – obviously going to be that Tom Hardy is a bit too pretty to play old Reg and Philip Seymour Hoffman would be more at home playing the fat old blighter – but it isn't that simple is it. Tom Hardy has the ability to get so into character that he gives Daniel Day-Lewis a run for his money – whether he's playing a pantomime villain named Bain or a Ultimate Fighting Veteran in Warrior – so he must just be able to give the performance of his life as the British pop star.
☛ Read Next: Is Wiley Having A Movie Made About His Life?
I suppose the most important thing is that Hardy gets into character by snorting more snow than Pablo Escobar has in his back catalogue whilst indulging in the kind of extravgance that makes a Middlesex born lad called Reginald Kenneth Dwight feel the need to turn himself into Elton Hercules John. Another big talking point will be how they portray the sexuality of a man who once told Rolling Stone in 1976 that, "People should be very free with sex. But they should draw the line at goats." I personally wouldn't mind watching Tom Hardy dressed as Elton John banging a goat while David Furnish watched – but maybe that's just me.
However they decide to turn Bain into Sir Elton, whoever they decide to cast as David Furnish, whether or not they decide to include the fact that he got turned down by King Crimson before making it, whether or not they mention Watford FC – you can be sure that Hardy's performance will be no means compare to that of William Shatner doing his own interpretation of Rocketman:
[yframe url='www.youtube.com/watch?v=lul-Y8vSr0I']