Struggling with your own rustic wedding songs playlist? Let us help you! Love rustic music? Well, there is nothing like a good country wedding song for a rustic wedding! Don't worry, we have all the best country wedding songs in one place. Just take a look at our ultimate list of top wedding songs for your perfect wedding! You are sure to find all your favorite country songs to play at a wedding, and even more!
Country wedding entrance songs
Rustic wedding songs have that unique charm about them that adds to your wedding some distinct old-school romance. There is hardly any other kind of music that makes your hearts sing in unison. Play your favorite country love song for wedding. And – you don't have to wait for the reception to play your music list! Start off with some great rustic love ballads.
Try 'Making Memories of Us' by Keith Urban to promise each other to 'be here for you from now on'.
Confess you 'want to spend the rest of my life with you by my side', as sung by Lonestar. Their song 'Amazed' could be a great song to start the ceremony. Admit, that 'Right beside you is where I belong from this moment on' ('From this Moment On' by Shania Twain).
Hint at the beginning of your life-long journey together with 'I Run to You,' by Lady Antebellum. Get as romantic as could be with 'Stealing Cinderella' by Chuck Wicks.
All these compositions are a great option as entrance songs: sweet and meaningful.
Country first dance songs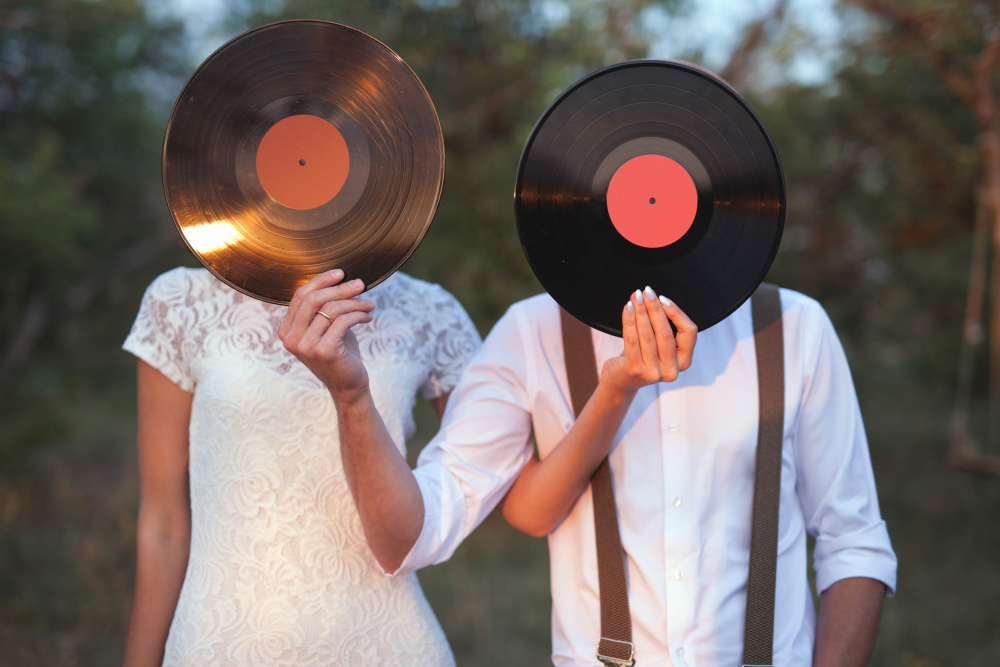 Probably, you think that rustic wedding songs are not that common among first dance music. But if you have decided to choose a country wedding song first dance, you'll find a lot of romantic compositions. We have top five songs that you might want to add to your country wedding playlist.
Want your first dance be 'Like a perfect scene from a movie screen where every dream comes true'? Choose 'Me and You' by Kenny Chesney, an amazing love ballad you're going to fall in love with!
Tell your significant other that 'You're always in my heart, you're always on my mind'with 'Only You Can Love Me This Way'. Keith Urban has a lot of beautiful songs, but this one will take your breath away with its lyrics.
Another great choice would be 'You Won't Ever Be Lonely, by Andy Griggs. Time to promise each other that 'now you won't ever be lonely'.
Lose yourselves in each other's loving arms at 'Smile' by Uncle Kracker. 'You make me dance like a fool, forget how to breathe, shine like gold, buzz like a bee. Just the thought of you can drive me wild. Oh, you make me smile.'
Sway at 'Lost in This Moment,' by Big & Rich, pouring your heart out. 'Watching all my dreams come true, lost in this moment with you.'
Country love song for weddings
As you can see, country wedding music is a perfect choice for any wedding. Want some more examples of great country music wedding songs? Well, tastes differ, but 'I Do,' by Jessie James Decker has most touching lyrics. 'I love you till the end of time. I wanna spend forever with you. I do.'
Want to remember the moment you first met? Play 'You Had Me From Hello' by Kenny Chesney. This fantastic song will tell the story of your love from the first sight. 'You completely stole my heart, and now you won't let go. I never even had a chance you know? You had me from 'hello.'
Another great example from some of the most popular country wedding songs is 'When You Say Nothing at All'. A lot of famous singers have this composition, but the one by Alison Krauss is probably the best. Confess your love to each other with its heartfelt lyrics. 'The smile on your face lets me know that you need me… The touch of your hand says you'll catch me if wherever I fall. You say it best when you say nothing at all.'
Play 'Forever and Ever, Amen' by Randy Travis, to show how much you love each other 'forever, forever and ever'.
Let go of all your lonely yesterdays with 'Somebody Like You' by Keith Urban.
Well, hope you love these amazing love ballads as much as we do. Rustic wedding songs make great wedding music. This kind of music will speak right to your guests' hearts and souls, so don't hesitate to put it on your wedding playlist!