Tinder has no doubt been one of the most popular apps ever since its inception back in 2012 – it's pretty much part of everyone's vocabulary these days and that just goes to prove how successful it is, you know?
Images VIA 
Anyway, there's no doubting how addictive Tinder is with many people spending their entire lunch break or even working day on it looking to get matched up and hopefully hook up with someone later that night. Or end up in a meaningful relationship, because that's what we all use it for, right?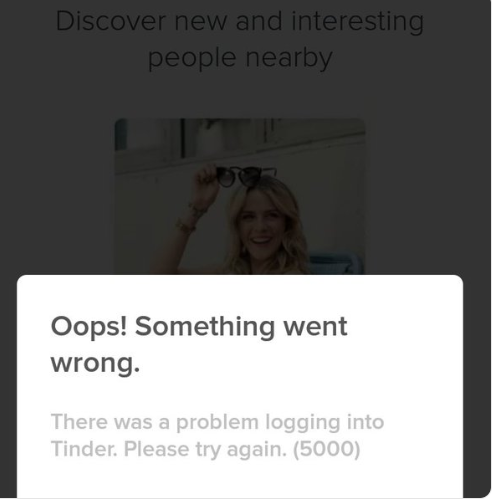 Throughout all the time I've known the app to be around, I don't think I've ever known for it to broken or down for a long amount of time and that makes the fact that today it seemed to really screw up all the more significant. There was no official word from Tinder themselves, but a load of users in the UK and US got an error 5000 message when they tried to log in and 41% of people receiving this said that they also got it when they were trying to send a message.
Basically it meant for a lot of people that their New Year Tinder Tuesday was officially cancelled. Hopefully this is just a minor hiccup for an app that seems to have worked so well since its introduction. Really felling for all you horny kids out here as we approach the second weekend in January. Could be kinda weird if you actually had to go out and talk to someone at a bar for once hey?
For more Tinder, check out the best and worst of Tinder. So much going on there.